A Learning Record Store (LRS) is a place to store learning records which acts as a repository. It is a new method to store learning information using Experience API (xAPI), also known as Tin Can API. As Experience API enabled activities generates experience data of user behaviour, this data stored LRS.
The LRS is simply a repository for learning records and can be accessed by an LMS, a reporting tool, or any application based on learning data.
An LRS can live inside an LMS, can stand on its own, or provide additional value-added services apart from storing records.

Learn More: 7 Key Benefits of Learning Record Store (LRS)
History
In 2011, the concept of LRS (Learning Record Store) was introduced with xAPI to make some significant upgrades in the field of E-Learning Industry and its features. As before SCORM and AICC standards were out there, but later xAPI is taking over this segment of eLearning field.
SCORM is still there, but as it doesn't meet the advancement of technology. So, Advanced Distributed Learning (ADL) planned to make some changes to meet future requirements. For this purpose, ADL collaborated with Rustici Software to make it happen.
After one year of research and development on this project, they named it Project Tin Can. Later, ADL released it as Experience API (xAPI).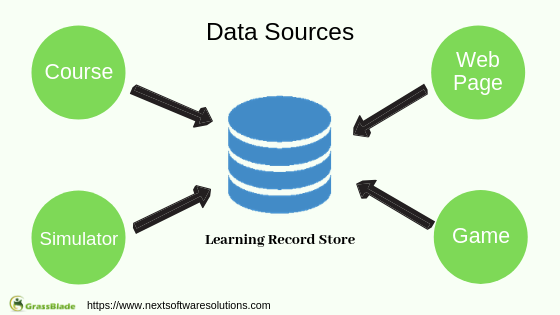 Working of LRS
The working of LRS is effortless and secure, as it is primarily used to store data, sent by your xAPI enabled content. Whether it is coming from your Online Course, Games, Simulators, or Webpage.
You can use LRS with WordPress also, which makes it very easy to make your own Learning Management System. Our GrassBlade LRS is fully compatible with WordPress, and it's plugins like LearnDash.
Also, you can use LRS to generate beautiful reports quickly and analyze data with graphs, charts many other things.
For Example, You created a quiz for your learners when they start the quiz; your xAPI content will start recording learners activities. As they take the quiz, it will send all data to LRS, and you can see statements like attempted, answered, completed and passed or failed.
Also, you will be able to see, which option your users are selecting as an answer, is correct or not. How much they scored in their quiz? Additionally, many more things like that.
Few companies have already released their LRS's to public and low or no cost.