Take

To Next Level
Add HMTL5, xAPI, cmi5 & SCORM content packages from authoring tools like Articulate Storyline 360, Captivate, and iSpring on LearnDash LMS. Get features like Advanced Video Tracking and a lot more with the GrassBlade xAPI Companion plugin.
Launch HTML5, xAPI, cmi5 & SCORM
GrassBlade xAPI Companion allows you to upload HMTL5, xAPI, cmi5 & SCORM content on WordPress. You can add it to the lesson, topic, or quiz in just a few clicks.
It gives you four different launch options to play your content within LearnDash LMS.
In-Page
Link to Open in New Window
Link to Open in the Same Window
Link to Open in Popup Lightbox
You can use a custom link text or image as a launch button for better presentation.
Required:
Upload, play & resume of SCORM package: LRS not required
For xAPI packages: Any LRS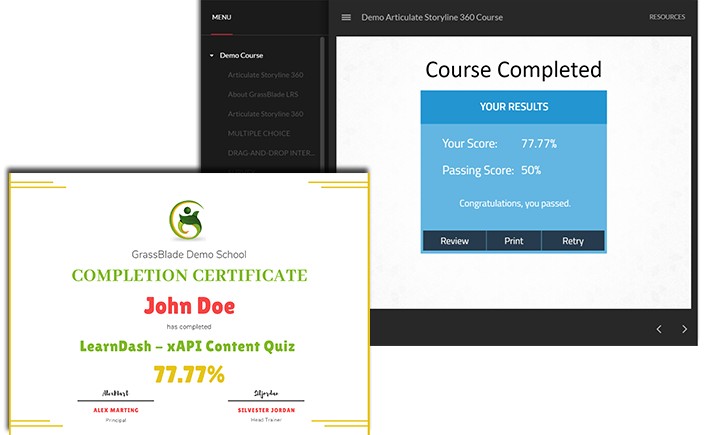 Score in LearnDash Reports & Certificate
The completion of HMTL5, xAPI, cmi5, SCORM & H5P content will reflect in native reports along with the score of the quiz. You can show user scores in native LearnDash certificates too.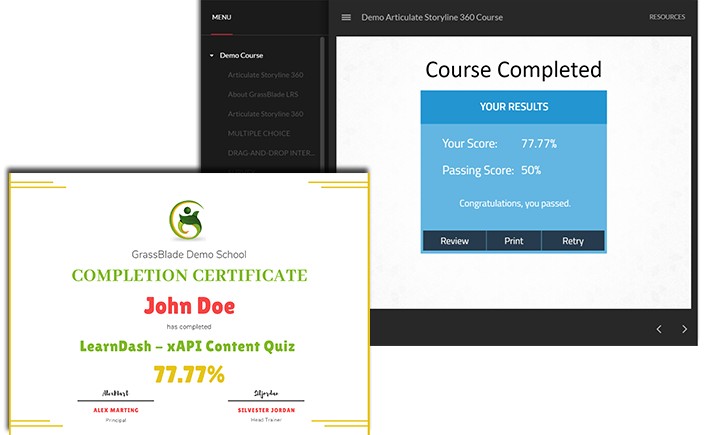 Advanced Completion Behaviour
GrassBlade xAPI Companion provides extra control over the content completion behavior of the LearnDash course. You can control what "Mark Complete" button will do? Also, you can show or hide button as per need.
Reports for Admin & Group Leader
Get six different reports in just a few clicks and get the data you want to see. Access it from the WordPress dashboard or create a frontend page with a shortcode or Gutenberg block. 
Available Reports:
Completions Report

Gradebook Report

Achievements Report
Progress Snapshot Report
User Report
LearnDash Profile
(Please click to enlarge)​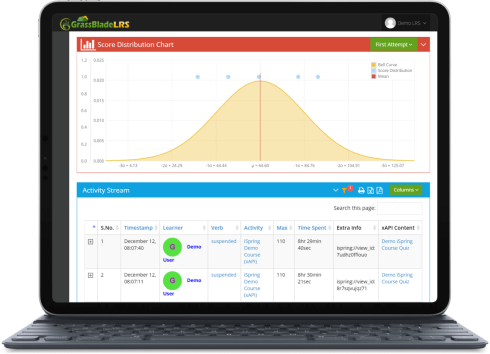 With GrassBlade xAPI Companion and GrassBlade LRS, you can track user's activity on native LearnDash courses. e.g. enrollment and unenrollment of users in a course with time & course details.
It also allows tracking of native LearnDash quiz with responses and filter reports according to LearnDash courses in LRS.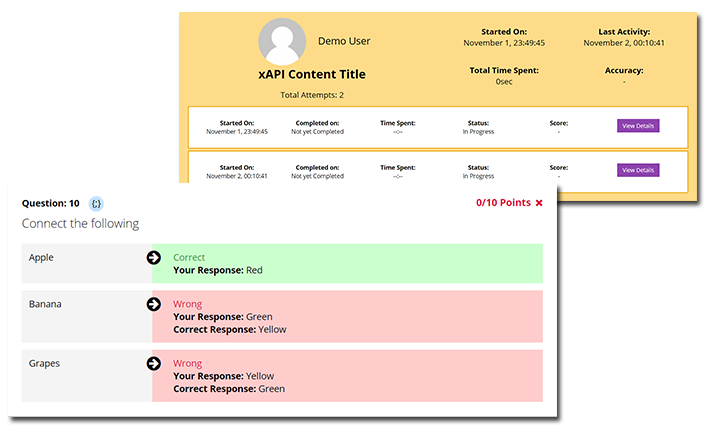 Deep Reporting with GrassBlade LRS
GrassBlade xAPI Companion has tight integration with GrassBlade LRS. You can check complete reports of HMTL5, xAPI, cmi5 & SCORM content including quiz responses of the users.
In GrassBlade LRS, you can filter and analyze user's performance also you can email reports.
After GrassBlade xAPI Companion v3.0, you can allow learners to see xAPI or SCORM Content Quiz Reports on the LearnDash profile page.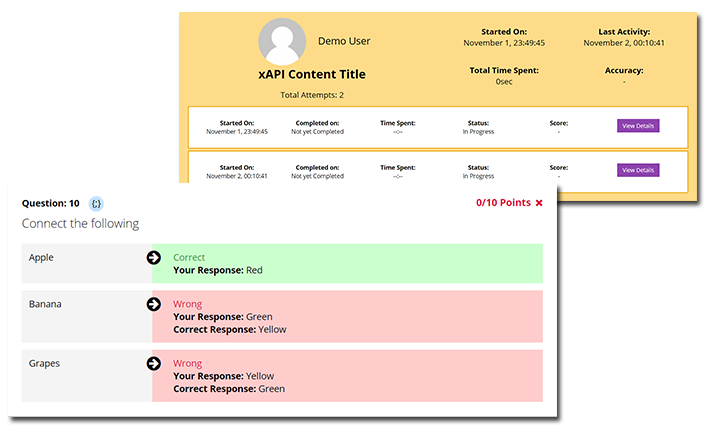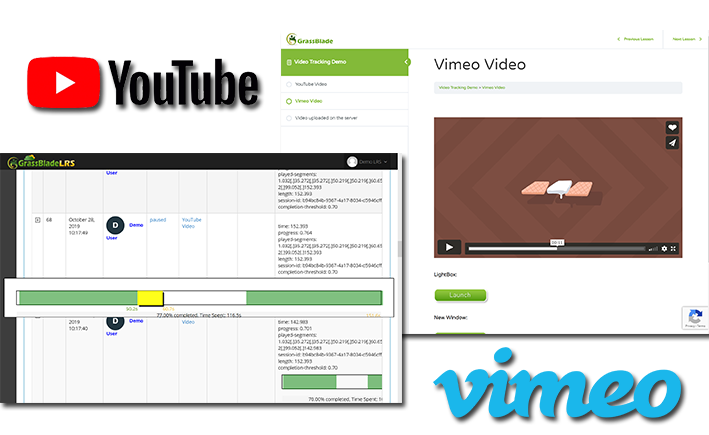 GrassBlade xAPI Companion allows you to add videos as xAPI Content and records user activity reports in LRS on video content.
It can mark a lesson or topic as complete automatically when the user watches the at-least a set percentage of the video.
Required:
For Resume & Tracking: Any LRS
For
Completion Tracking Reporting of scores and completion on User Report. Automatic completion of lessons on LMSes like LearnDash.
:
GrassBlade LRS
Rich Quiz Reports for Learner
After GrassBlade xAPI Companion v3.0, you can show Rich Quiz Reports for xAPI and SCORM Conent to your learners. It will show up directly in LearnDash Profile page.
To use this feature you must be using GrassBlade Cloud LRS or GrassBlade LRS Premium or Premium+. These reports are only available in these LRS plans only. 
Supported Authoring Tools
GrassBlade xAPI Companion allows you uploading and tracking of HTML5, xAPI, cmi5 and SCORM content from any authoring tool. These are some popular authoring tools tested with GrassBlade xAPI Companion.
A Super WordPress LMS Pack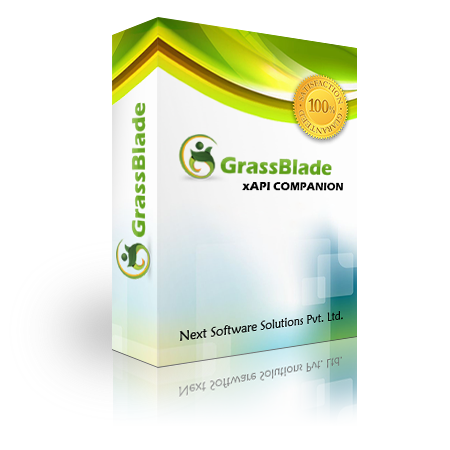 GrassBlade xAPI Companion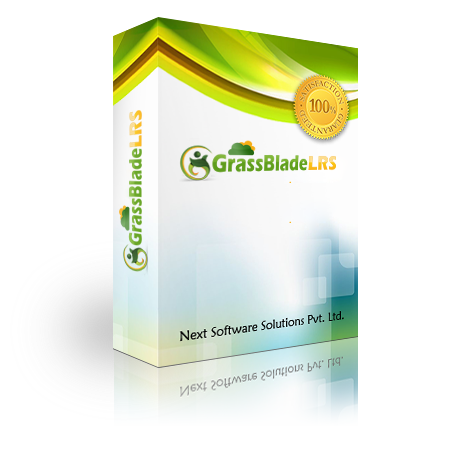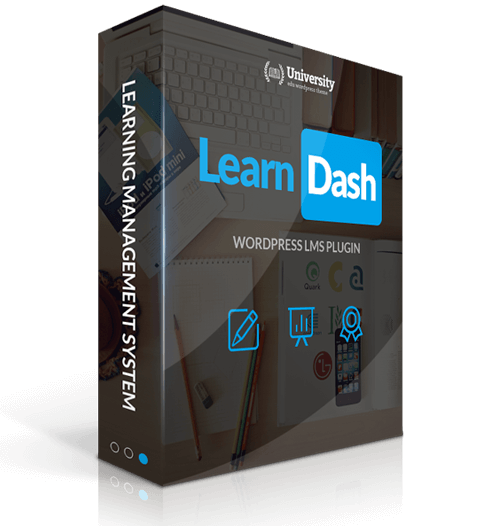 Frequently Asked Questions