#TeamGrassBlade is super excited to present the biggest update of 2020.
Say Hello! to GrassBlade xAPI Companion v3.0 and GrassBlade LRS v2.4
In this update, we're adding two major updates to GrassBlade xAPI Companion:
Sounds interesting? Keep reading to learn more about what's new in this update.
GrassBlade LRS v2.4
GrassBlade LRS is our flagship product, and we want our users to get great user experience with the robustness of the product.
This is the first update of the year and we promise to provide you with a few more in this year to enhance reporting and user insight.
In this update…
1. Rich Quiz Reports
Last year, we added this Rich Quiz Reports to our GrassBlade Cloud LRS. Now, we're expanding this feature to GrassBlade LRS (Premium and Premium+ plan) users.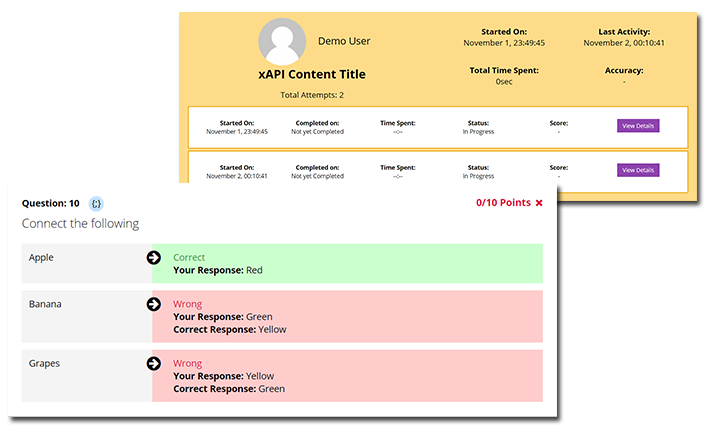 If you're using GrassBlade xAPI Companion with the latest update, you can show Rich Quiz Report to learners too.
2. Zapier App Integration
Last year, we also added Zapier App Integration with GrassBlade Cloud LRS and we're expanding it to GrassBlade LRS (Premium and Premium+ plan) users.
With this integration, you can perform an action on 1500+ apps on the basis of data coming to your LRS. Also, you can collect activity data from any integrating service with Zapier in GrassBlade LRS.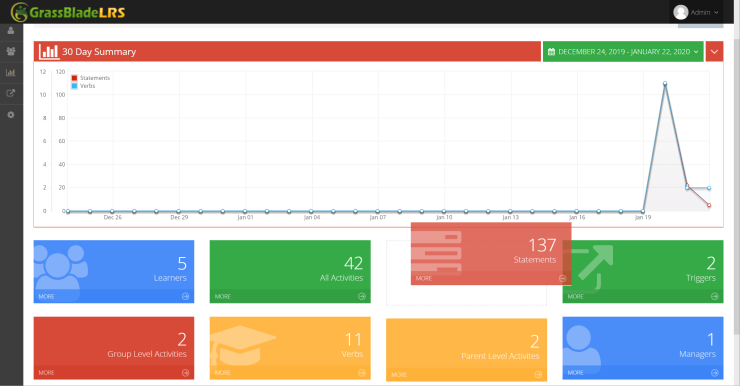 3. Dashboard Widgets
We have now added more control on Dashboard Widgets. You can now rearrange items showing on the dashboard of the LRS. It also allows users to show or hide available items on the dashboard.
This update also allows us to add more dashboard widgets rapidly. Or, easily develop a custom widget for you.
4. Easy Password Reset
Previously, we have to change passwords from the database, but now users can reset their password using their emails. To do it securely an email authentication is required and it will work only if SMTP configuration is updated in your LRS.
There are few more improvements are done on your favourite LRS. Please update it to the latest version to enjoy the latest features.
5. Security Fix
This update also adds some XSS security fix
GrassBlade xAPI Companion v3.0
SCORM Support
Now you can use SCORM wrapped content in your WordPress site. The SCORM content can be uploaded via GrassBlade xAPI Companion like any other xAPI content, and it will behave like any other xAPI Content sending statements to the LRS.
What you can do?
Upload SCORM Content zip file
Track Progress in LRS
Rich Quiz Reports in WordPress.
SCORM Content Score in LMS Reports
Show SCORM Content Score in Course Certificates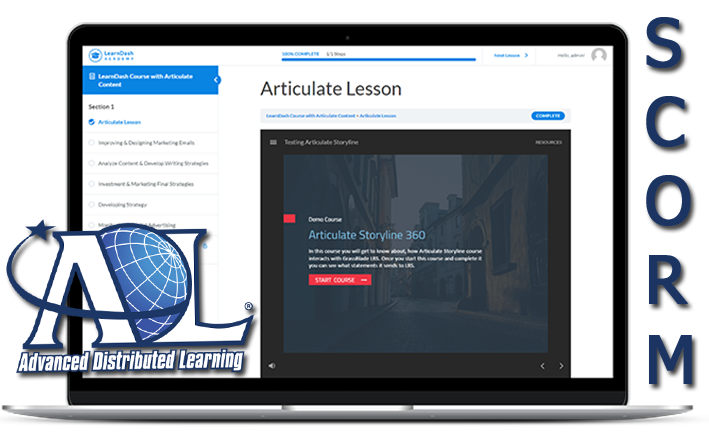 It will work normally as if it is an xAPI Content, reporting and completion tracking will also work in a similar fashion. If you're confused in between xAPI and SCORM? Read, xAPI vs SCORM.
Supported SCORM Versions
There are four versions of SCORM content and we added support for all of them. You can use SCORM Content from versions listed below:
SCORM 1.2
SCORM 2004 2nd Edition
SCORM 2004 3rd Edition
SCORM 2004 4th Edition
SCORM Authoring Tools Support
You can create SCORM content from any authoring tool and use with GrassBlade xAPI Companion v3.0. These tools are primarily tested by our team:
Articulate Storyline
Articulate Rise
Articulate Studio
Articulate Presenter
Adobe Captivate
iSpring Suite
Lectora Inspire
domiKnow Claro, etc.

Wait! There is more in this update.
Rich Quiz Reports
In GrassBlade xAPI Companion v3.0, we added rich quiz reports for learners. Now your learners can check their attempt reports with their responses to the quiz questions. Accessible from LearnDash profile as well as from Your Results table below the content.
Learners can check:
Attempts Details
Response to each question in every attempt.
The score for each question
Total Score
Total Attempt
Starting Date and Time
Last Activity Date and Time
Total Time Spent
Accuracy
Available to LearnDash users
These reports will be available to LearnDash users as well. It will work similarly to LearnDash quiz statistics on LearnDash profile page.
To use Rich Quiz Reports, you must use GrassBlade Cloud LRS or GrassBlade LRS Premium or above.
We are working hard to provide the latest updates and best features in the industry.
We hope you find this update useful if you're facing any problem feel free to contact us.
For more latest and quick updates please follow us on Facebook, Twitter, LinkedIn and YouTube.