Today, we released the GrassBlade xAPI Companion's v3.1.6 with lots of improvements. This update is mainly focused on SCORM Content and easy support system in WordPress backend.
Let's take a look in detail, what's new in this update?
SCORM Content
After a lot of hard work and managing complex workflow, we added support for SCORM Content. Now you can upload and track SCORM content created with any tools and any versions or edition of SCORM.
Resume Content: After this update, you can resume content from where you left in your last session. It is not working on browser caching, so you can easily play on your PC and resume on your cell phone.
Improved Reporting: As you know, we're doing advanced reporting on SCORM Content with the help of xAPI and LRS. For better reporting, we improved the format of xAPI statements to generate better and human-readable interaction data from SCORM Content.
Support Page
For better support experience we added support page in WordPress backend of the plugin. Now you can easily raise tickets from the backend of your own site.
You can find this setting by following this path: WP Dashboard > GrassBlade > Support.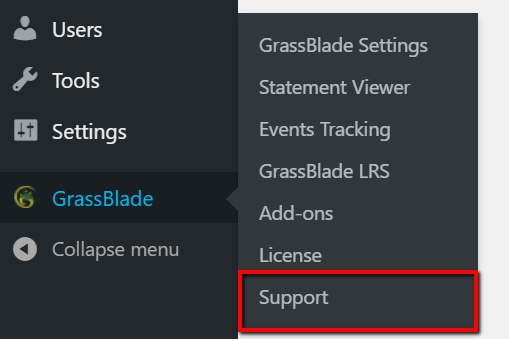 It allows attaching the important information, that reduces the number of email exchanges and cross-questions.
Uncheck the checkbox, if you do not want to include this information when you're generating a new support ticket.
Read the changelog to see all the changes in this update.
#TeamGrassBlade hopes this update will improve your user experience and makes you feel connected to our support.
If you have any questions or queries, feel free to contact us. For more latest and quick updates follow us on Facebook, Twitter, LinkedIn and YouTube.