We are delighted to announce the release of GrassBlade LRS v2.0.0, and GrassBlade xAPI Companion v1.4.0 with some amazing new features.
What is new in GrassBlade LRS v2.0.0? Demo | How to upgrade?
Looks, looks and looks:
We have a completely new look for GrassBlade LRS. You will definitely fall in love with it.
Sound and Robust
The new version is much more robust, several bug fixes, and enhancements make it faster and better.
Amazing Charts
We have a better dashboard. A cool new date range selector for the dashboard chart. And a new bell chart showing score distribution, visible when you select a course or activity on Activity Streams that has scores.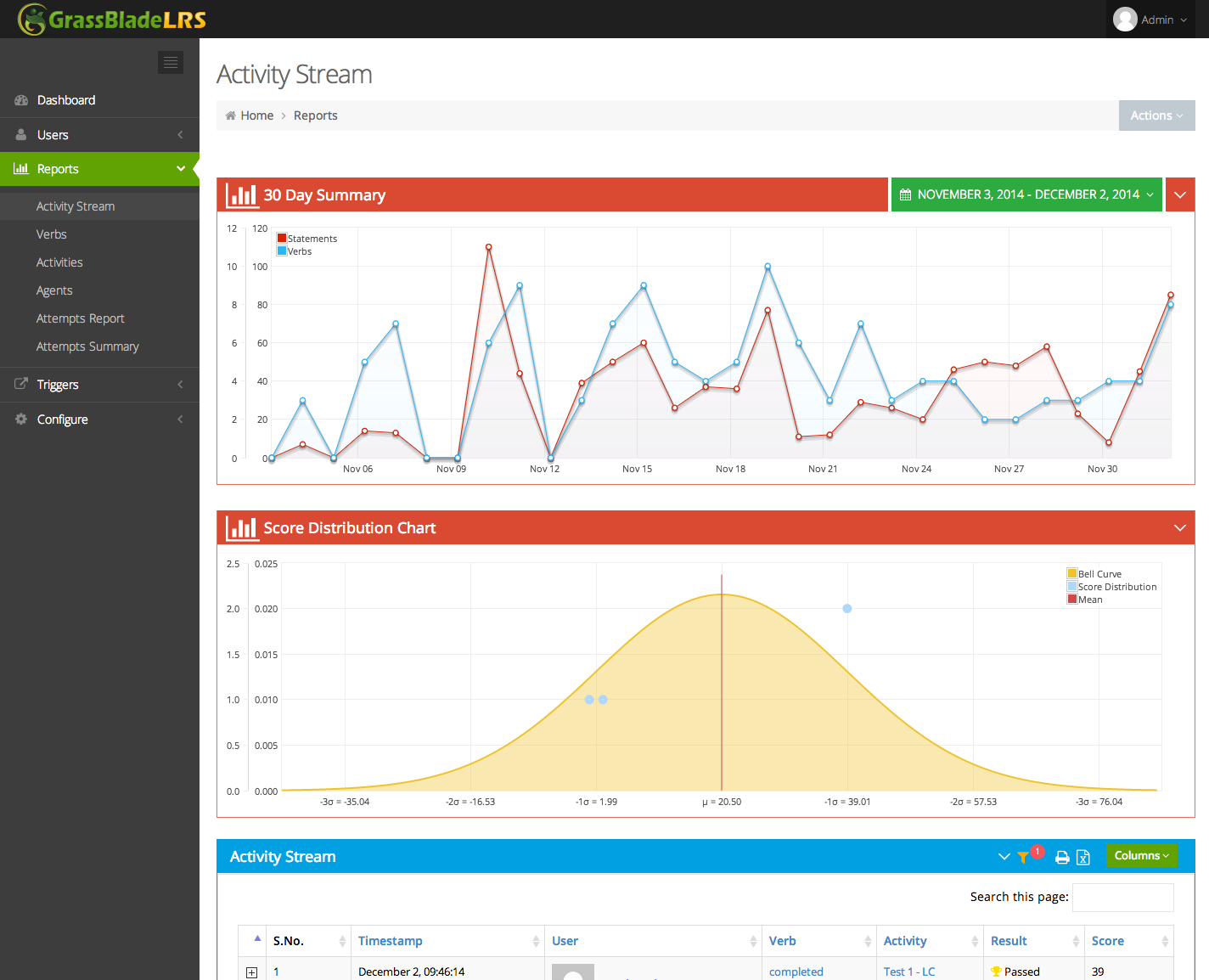 Improved Filtering
Filters are much better, you can search users by name or email, activities, select verbs from dropdown, select date range and more. No more copy and paste of ID's.
New Reports
We now have Agents (Users), Verbs and Activities reports, and a lot of very useful related information available for each user, verb, and activity under each row of these reports.
Better Tables
The new tables are cleaner, and more flexible. The result data is in separate columns, and you can see and hide the column you want to. The table automatically hides columns that are empty for most rows. More and relevant related data, available on each row.
CSV Downloads
CSV downloads are better.
Data Permissions for data from multiple sources or multisite
You can now have different credentials send different data, and allow their users to see data and reports only related to their statements. Amazing for those using one LRS with multiple websites.
Filtered Triggers for data from multiple sources or multisite
Trigger now have a Authority filter. You can now send statements to LRS from different website using different credentials. And then setup different triggers for statements received from different sources.
What is new in GrassBlade xAPI Companion v1.4.0? Demo
Launch Buttons
You can now upload an image for the Launch button instead of using the launch text.
Robust
We have fixed several bugs, and we now have better error handling and testing to tell you if there is a misconfiguration.
Sponsors:
I would like to thank Kevin from Apex Anesthesia Review, Rob from Vertica Career Consultants and Thomas from eBSI Export Academy for sponsoring some features and providing valuable feedback.