GrassBlade xAPI Companion is a powerful WordPress plugin developed by Next Software Solutions. This plugin is used to publish xAPI (Tin Can) enabled content on your WordPress site. It also helps in learner's behavior tracking and works in 3 simple steps.
Generate xAPI (Tin Can) content.
Upload using the xAPI content uploader
Use your xAPI page or, add the shortcode to your WordPress page, post or custom post using a shortcode or a meta box.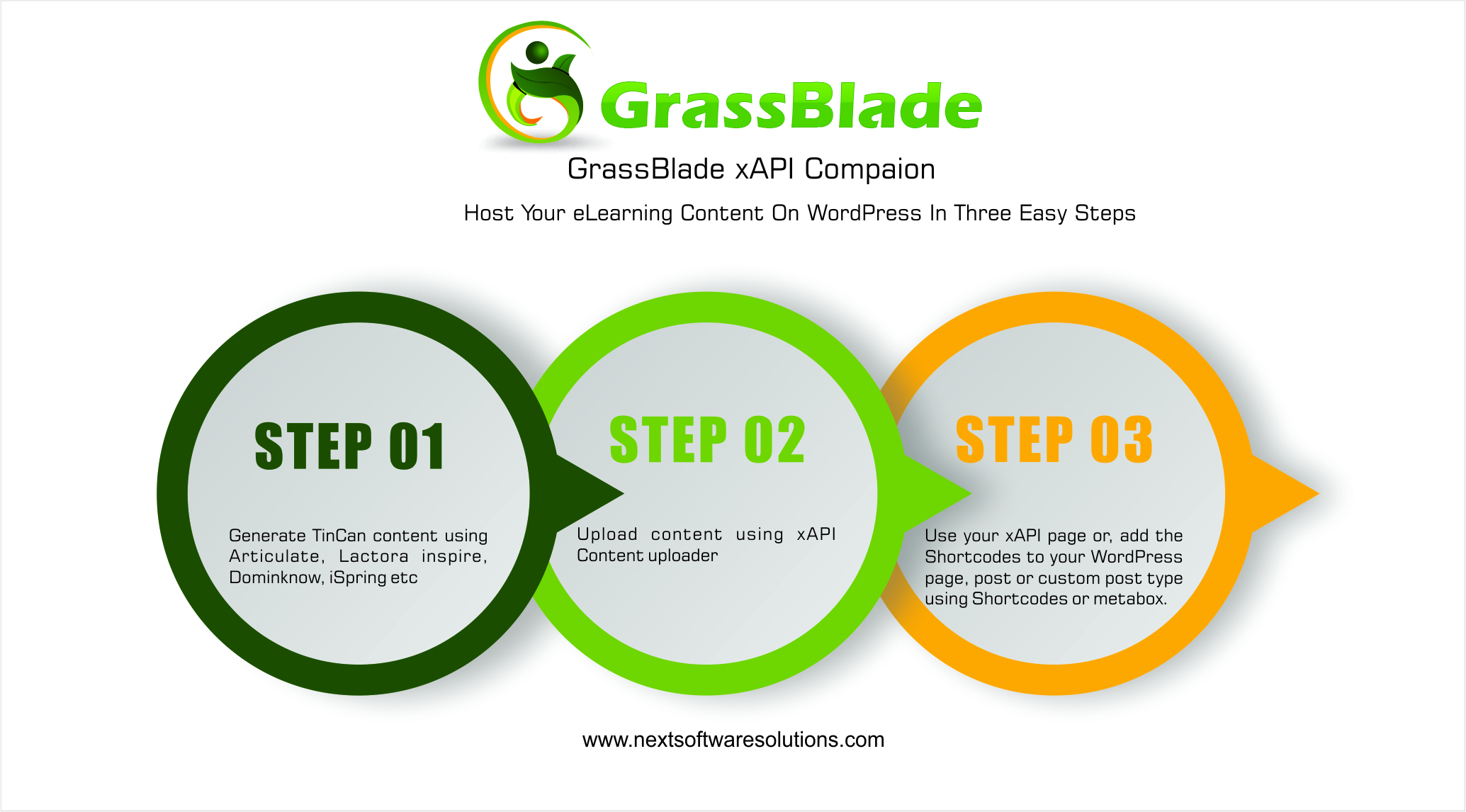 Tip: To track and store data of learner you need an LRS, you can use GrassBlade LRS
Read More: What is GrassBlade LRS and it's Features?
Key Features
1. Easy PageView Tracking
GrassBlade xAPI Companion plugin enables you to track learner's behavior very closely. You can track page views of users and guests. Configure what you want to track, and GrassBlade will start shooting statements to your LRS on every page load, along with useful information like User's Name, Email, IP, Page URL, Page Title and Browser Details (User-Agent).
2. Secure
There are multiple security features built in:
Content Security: If this feature is enabled, the xAPI Content is visible to the user only when he is logged in.
Secure Tokens: Auth Tokens if used as it is, is very insecure because users can see it from the browser and misuse it if they understand xAPI.  With Secure Tokens, GrassBlade xAPI Companion can generate short-lived tokens specific to the user IP, user email, and the content. Such token cannot be captured and passed on to others for misuse.
Server to LRS communication: PageViews tracking data is sent from the server to LRS, and hence the transmission is more secure than sending from browser.
3. Great Integration
GrassBlade xAPI Companion supports most of the authoring tools, you can use these tools to design your beautiful interactive courses and upload and publish it via this plugin. Here is the partial list of popular supported tools:
Articulate Storyline
Captivate
H5P
Lectora Inspire
iSpring Pro
DominKnow Claro
Articulate Studio and more.
4. Video Tracking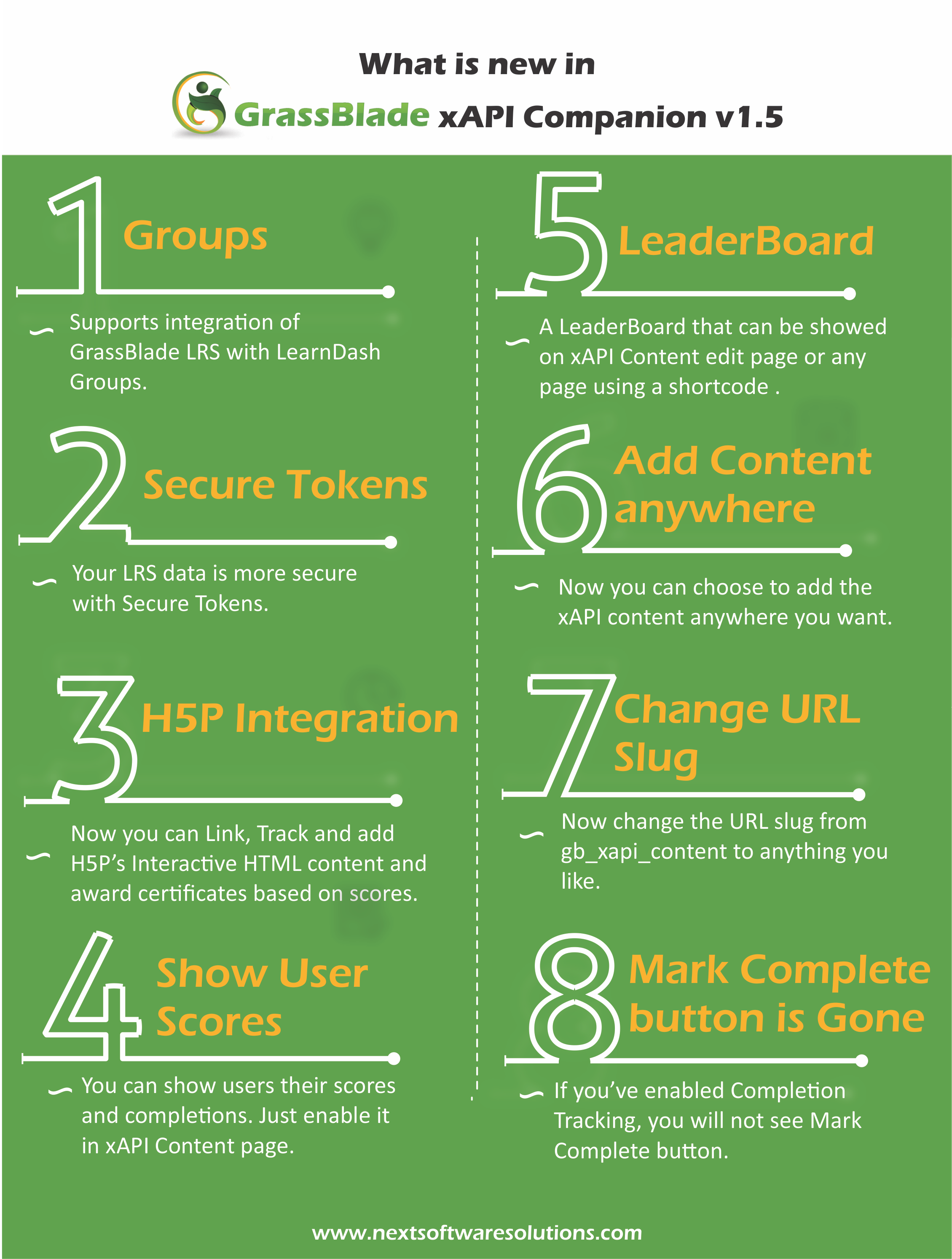 This xAPI WordPress plugin allows you to track users interaction with video content too. Whether you host the video on your server or it is uploaded on third-party platforms like YouTube or Vimeo.
5. Other Features
Direct Upload from Dropbox
Integrates with H5P
Configure the LRS Settings globally or on each piece of content.
Completion Tracking when used with LearnDash and GrassBlade LRS.
WordPress + GrassBlade + An LRS = The NextGen LMS
Configure the height and width globally or on each piece of content.
Shortcodes to get and set State API Values. You can create a RESUME feature for your User's web/course browsing experience.
FREE Support and Updates for a domain for one year.
So, GrassBlade xAPI Companion is a complete tracking solution for your xAPI based learning content published on WordPress, which supports almost all authoring tools available.
We hope you got this information useful, please follow us on social channels like Facebook and Twitter for more latest updates.