GrassBlade LRS is a Learning Record Store. A Learning Record Store (LRS) is a data storage service that acts as a repository for learning data. It is necessary for using the Experience API. The Experience API (xAPI) is also known as "next-gen SCORM" and the "Tin Can API".
Learning Record Store is a notable shift from the way e-learning specifications work. The concept was introduced in 2011 and started public adoption after the launch of pre-release version 0.9 of Tin Can API.
GrassBlade LRS enables you to stores progress data of learners sent by xAPI contents as well as any other application and tools that can send xAPI data.
It works with all xAPI (Tin Can) enabled platforms that support external LRS, including WordPress if you have the GrassBlade xAPI Companion plugin installed.
You can integrate it with different Learning Management Systems that support Experience API and integrates with tools services like Zapier. Also, there is tight integration with WordPress and LearnDash LMS plugin.
It supports almost all Experience API based content published using various authoring tools like:
There are two versions to choose from:
GrassBlade Cloud LRS:  This is hosted, installed, updated and maintained on the Cloud by Next Software Solutions. You can be at peace that it is managed by those who have built the system, and can expect much better performance than if you had to host and maintain it. You can also move your data from self-hosted to the cloud, or back.
GrassBlade LRS: This is the self-hosted version that is installed on your server. You need to install, update, and maintain it yourself.
Features of GrassBlade LRS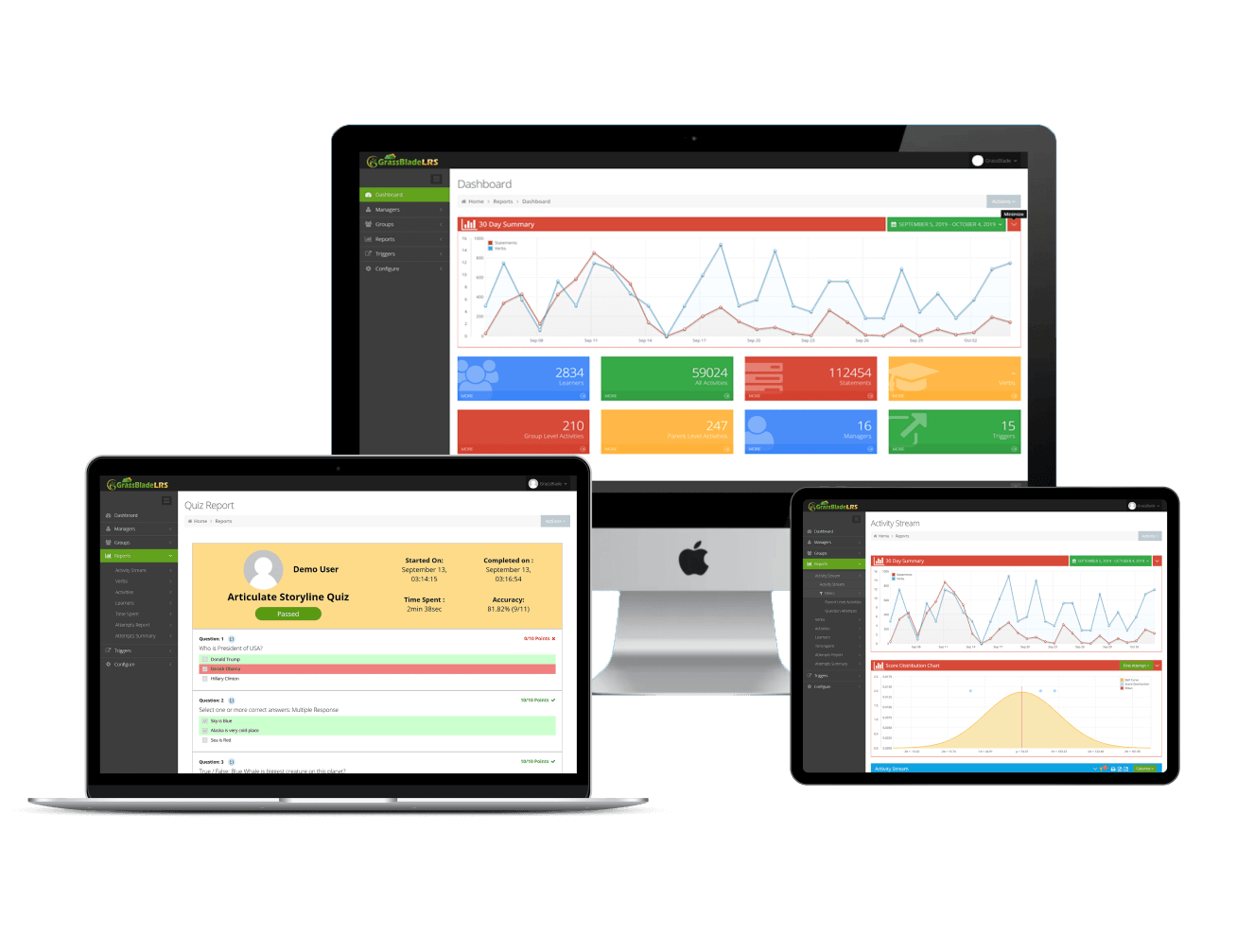 Quick & Easy Setup
The process of GrassBlade LRS setup and configuration is simple and works on most server hosts that support PHP & MySQL. If you're using the cloud version, there is no need for installation and configuration, just get your login & password and start using it right away.
For more details check out How to configure GrassBlade LRS?
Dashboard & Activity Reports
GrassBlade LRS simplifies your reporting and analysis tasks. It provides easy to use interface to manage and check everything in just a few clicks. You can filter and download reports as CSV or PDF.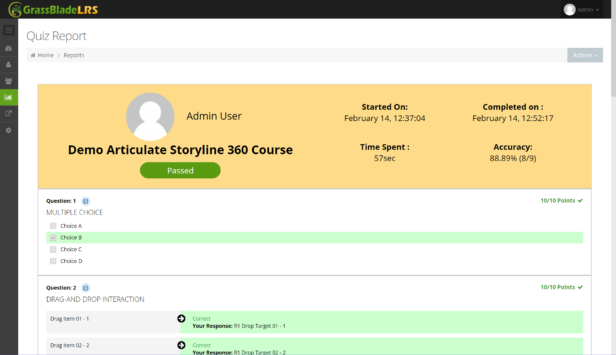 Rich Quiz Reports
All the quiz data coming from authoring tools content like Storyline or Captivate or any other will gets presented as Rich Quiz Report. It gives you a clear understanding of the learner's performance in the single sight.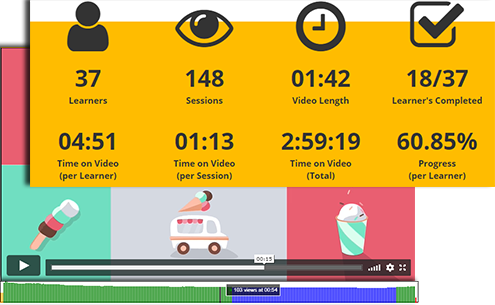 Advanced Video Reports
With GrassBlade xAPI Companion v2.0, you get advanced video tracking and all the activity data is sent to GrassBlade LRS. You see a report of the following data coming from YouTube, Vimeo, or MP4 video uploaded on your server with this nice overview and progress heatmap for each attempt.
Play (played)
Pause (paused)
Completion (completed)
Volume Change (interacted)
Skipping (seeked)
Full Screen (interacted)
Learn More: Advanced Video Tracking and Reporting
Integrate with 1000+ Applications
Using Zapier (3rd party service), and Triggers on GrassBlade LRS, you can integrate it with 1000+ different applications like Google Docs, SalesForce, and many other services.
No Limit
If you use the self-hosted or cloud version, there will be no statement limit from our side. See Plans
Groups & Filters
You can set up learner Groups on the LRS. These Groups can filter reports.
Filter: Reports can be filtered by Groups like other filters.
Group Leader login: You can configure a manager with access to data of specific groups only. This manager can now login to the LRS, and see reports for these specific user groups only.
Auto Sync Groups: Groups built on LearnDash LMS can be automatically and periodically imported into the LRS, so you do not need to create  Groups and manage group users in multiple places.
Human Readable names in Articulate
You can import tincan.xml file to be able to show Course/Activity names, and quiz answers instead of ids in Articulate Packages.
Awesome Support
The support system for GrassBlade is available on its knowledge base and you can reach us via Email and Social channels. Our team will try hard to response your each and every query.
Security
GrassBlade LRS focuses on both integrations as well as security. GrassBlade LRS is the first and only LRS to provide the Secure Tokens feature. You can always use standard Basic Auth tokens if your LMS platform doesn't support Secure Tokens.
Other Features
SSL certificate is recommended but not mandatory because is on your own server. With 3rd party LRS, it doesn't work on IE without SSL.
Forget monthly fees, you host the LRS on your own server so you have complete control.
Cloud option: If you do not want to take care of self-hosting the LRS, you have an option to easily move to the Cloud LRS or switchback.
FREE Support and Updates for a year.
We hope you got this information useful, please follow us on social channels like Facebook and Twitter for more latest updates.