The current state of the pandemic has elevated the importance of webinar tools. Organizations and institutions have been practicing it and now are also trying to leverage them with LMS systems too.
The objective of any integration is to reduce the duplication of work and automate some of the processes that can be time-consuming and require manual assistance.
Implementation of webinar tools will help you achieve:
Reduced costs
Improved teamwork
Improved social learning experiences
Removal of geographical limitations
Possibility to involve professionals to host training
Here's a concept that will enable you to use webinars more efficiently with your WordPress LMS plugin.
The process given below will work on all the most widely recognized WordPress LMS plugins:
LearnDash LMS
WP Courseware LMS
LearnPress LMS
LifterLMS
The Idea
Adding a webinar to your LMS lesson. You may try it with any webinar tool.
Make sure webinar is not skipped, manually bulk mark complete the lessons only for users who have attended and restrict the others.
Add and Track webinar recording on the same lesson to ensure the non-attendee watches at least a set percentage of the video in any order before advancing.
If you're very new to WordPress and eLearning some steps can go over your head, do not worry just follow and ask in the comments.
How to implement it?
Follow these steps to implement the idea on your WordPress LMS website. Here we are picking LearnDash LMS as an example. The link to the complete step by step user guide along with screenshots is at the end of the steps.
Steps for LMS
Create a course and lessons filling your requirements.
Name your webinar lesson for instance 'Webinar Activity'.
Add or embed the required webinar information.

Date and Time
How to join? The activity or agenda.
A message for the invitees for instance "Attend the webinar to unlock the next lesson, or watch at least 70% of the video to advance to the next level.

Make sure you're recording the webinar.
Steps to Block Progression
To restrict the progression, you just need the GrassBlade xAPI Companion plugin, it integrates seamlessly with all the LMS plugins listed above.
Create an xAPI Content with a blank Content URL also enable Completion Tracking and set completion type.
Add this xAPI Content to the Webinar Lesson we just completed in step 3.
This will hide or disable the Mark Complete button depending upon your Completion Type settings.
Manually Bulk Mark Complete Lesson
LearnDash LMS does not offer a manual bulk lesson completion feature. We will use Manual Completions for the LearnDash LMS plugin.
This free plugin works with the GrassBlade xAPI Companion plugin and can save a lot of our time.
Download the list of all the webinar attendees and grab their names or emails.
Use the select feature to handpick Course > Lesson > User to process bulk Mark Complete lessons for all the attendees.
Add Webinar Recording
GrassBlade xAPI Companion further enables Advanced Video Tracking and Reporting with GrassBlade Cloud LRS (required).
We will use this feature to track non-attendees video analytics and restrict them to watch at least a set percentage of recording in any order to advance ahead.
Download recording and upload it on Vimeo, YouTube, or any hosting/platform.
Add a new xAPI Content for video,  it supports the links of the above platforms or uploads the video file to your hosting using GrassBlade's video upload feature.
Enable Completion Tracking and set Completion Type as per the requirement to hide or disable the Mark Complete button.
Set completion percentage to restrict users to watch at least an "X" percentage of the video in any order. The default is marked by 100%.
Publish this xAPI Content to save.
The Final Step
Replace the old xAPI Content with this new xAPI Content. This will add your webinar Video Recording to the lesson and keep the Mark Complete button hidden or disabled until non-attendees watch a set percentage of the video.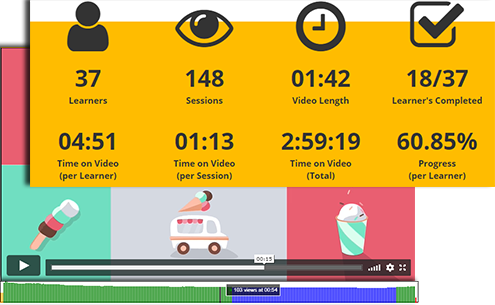 Advanced Video Reporting
GrassBlade xAPI Companion tracks the detailed activity of the learners and sends filtered data to the GrassBlade Cloud LRS.
You can check condensed and intricate activity reports in the LRS including Performance Overview and a Progress Activity Heatmap for every attempt.
Conclusion
eLearning and business organizations face this daily challenge and want to know, how to track these activities in the LearnDash LMS. Stopping the learners from completing courses, without attending all those crucial activities is very important.
A lot of these activities involve compliance-related courses that can make or break the training module. GrassBlade xAPI Companion is just one complete plugin for xAPI, SCORM, and Video Content loaded with advanced tracking and reporting that works with GrassBlade Cloud LRS.
It also sits well with top WordPress LMS plugins and enables you to do more and create a difference. I hope you like the idea, feel free to share your thoughts in the comments section.