There is an urging demand for creating content that achieves highest learning retention. Over the past decade, many have mastered the art of creating a well-designed content which is informative but ensuring its retention is still a secret sauce that pioneers are developing.
Sometimes our training process includes some instructor-led session, they can be offline activities or online webinar as per the designed course requirement.
A lot of interactive activities are also added which are not only coherent with the course but adds learning experience which can't be skipped.
Moving to the next level in the curriculum you need to ensure every learner has completed and retained that necessary course.
The Issue
The predicament that E-learning and business organisation face on a daily basis is, how to track these activities in the LearnDash LMS.
Stopping the learners from completing courses, without attending all those crucial activities is the Achilles heels of the eLearning industry.
It has been touting major players and still presents E-learning as just an option to physical learning but not completely replacing it.
The Solution
This can be achieved by using the traditional approach of "Instructor/Group Leader/ Admin" marking the lesson as Complete for learners who attended offline or webinar training. Complex at its inception, but we have simplified it and made it viable to implement.
1. Create a Lesson
Create a lesson for instance, "Offline Activity or Webinar". If this is an offline activity, then you can share all details related to the activity on this lesson page. Or if this is an online activity like webinar then you can add a link to your webinar or embed it directly on this page.
2. Restrict the Lesson Completion
To prevent the users from marking the lesson as complete themselves to ensure the content is not skipped, you simply need to add the GrassBlade xAPI Companion.
We are going to use the Completion Tracking feature of this plugin. Follow these three steps:
Create an xAPI Content without content URL.
Enable Completion Tracking and Completion Type (Hide Button or Enable on Completion)
Add to LearnDash LMS lesson
When you add the xAPI Content to the lesson page, it will disable or hide the Mark Complete button and only Admin or Group Leader will be able to Mark Complete the lesson for the learner.
3. Bulk Completion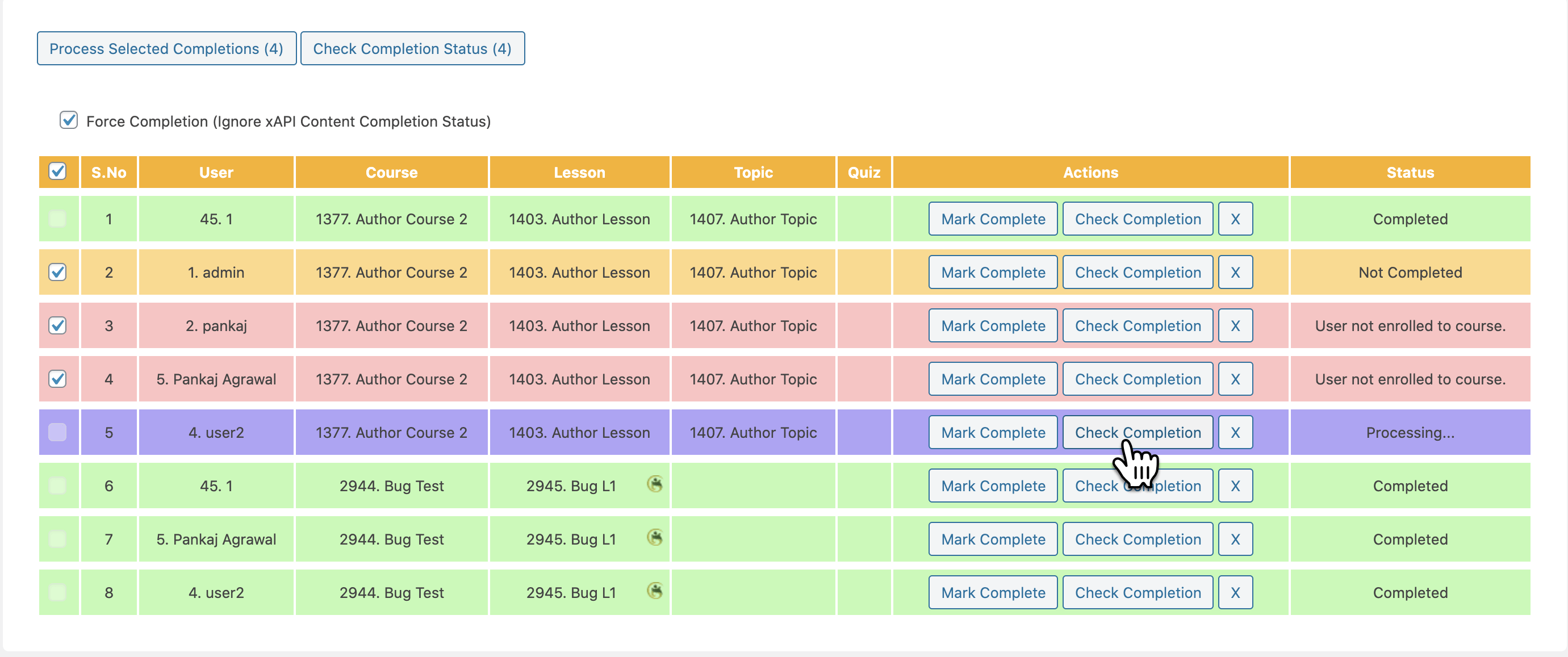 The most common question that we get when we present this idea to our partners is how challenging and time consuming it is for the managers to mark all the users complete a lesson.
It becomes totally unviable when dealing with a large organisation to go to every learner's profile to Mark Complete the lesson from the edit profile page.
To overcome this issue we created this free Manual Completions for LearnDash plugin. It has been specifically designed to enable bulk completion for lessons, topics and quizzes.
Currently, the only Admin can use the bulk completion feature, support for the group leader is on the way.
The Conclusion
With the outbreak of Covid-19 pandemic, there is a pressing demand of system that e-learning system that can create big capabilities to provide major impact.
Every professional training manager already knows that a great eLearning experience is not just restricted to well-designed, engaging and informative content anymore.
With evolving technology, you need further analytics and capabilities to make it more rewarding. GrassBlade was designed to create that difference for your organisation.
Team GrassBlade has been a pioneer of e-learning innovation for the past decade having collaborated with MNCs to educational agencies and government agencies. With GrassBlade xAPI Companion, you can create robust offline and online learning