NOTE: Go to this article if you're facing any issues: Completion Tracking Not Working
Completion tracking is the most used feature of GrassBlade xAPI Companion. It can control the behavior of the "Mark Complete" button available under Lesson/Unit/Quiz and automatically completes LMS's lesson/topic/quiz when the user completes the added xAPI Content.
To use completion tracking, add relevant triggers in GrassBlade LRS and enable the completion tracking option in the xAPI Content.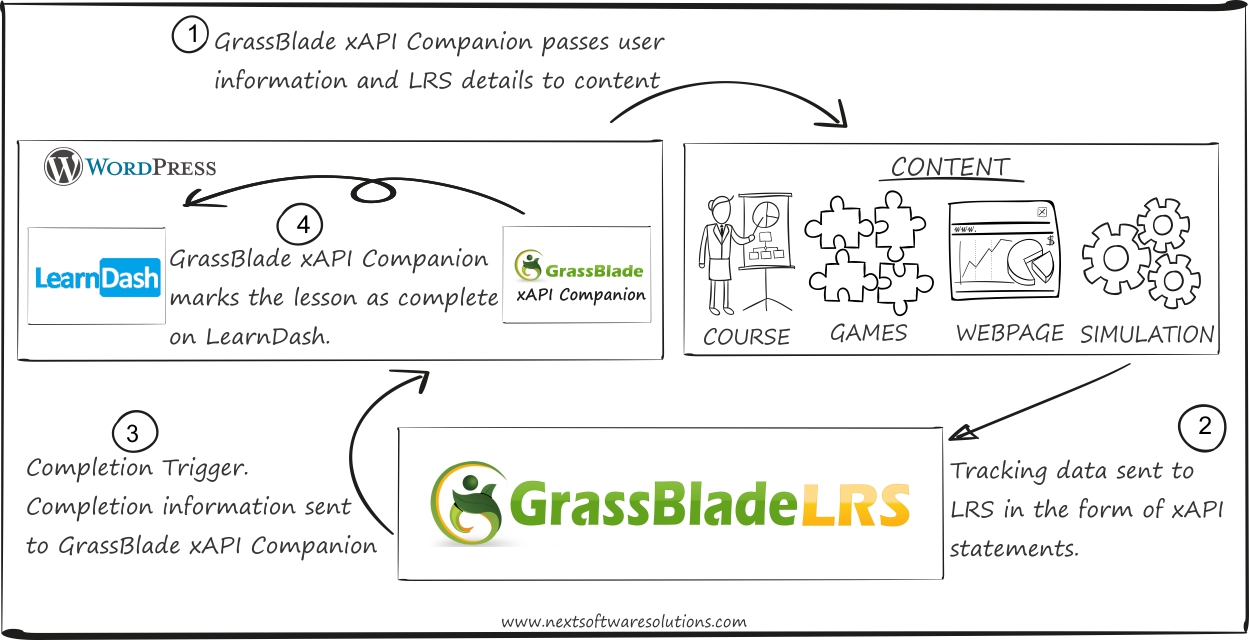 These settings will work similarly with xAPI, cmi5, SCORM & Video content.
Follow the step-by-step guide.
Requirements
GrassBlade Cloud LRS (or GrassBlade LRS)
LearnDash LMS or WP Courseware or LearnPress or LifterLMS or Tutor LMS or MasterStudy LMS
Not using an LMS? Follow the same steps to send back completion data from the GrassBlade LRS to WordPress. The scores and completion can be shown to users on the content page.
Generate Triggers Automatically
To generate a basic trigger automatically, log on to your GrassBlade LRS or GrassBlade Cloud LRS.
Note: It only works with GrassBlade LRS v2.6.0+
Step 1:
In GrassBlade LRS, go to Configure > Integration > WordPress
Step 2:
Add WordPress credentials (see detailed instructions)
Step 3:
Click the Generate Completion Trigger link to create triggers for your WordPress website.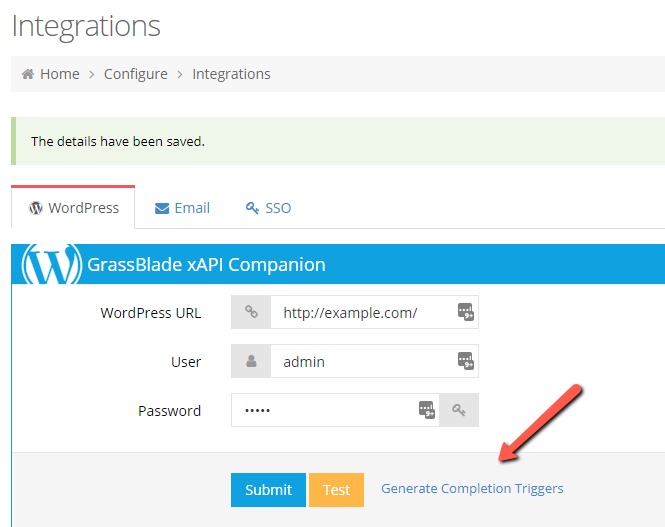 It will create four basic triggers in LRS:
Attempted
Completed
Passed
Failed
Want to learn more about how it works? Check the steps given below.
Generate Triggers Manually
Create Passed & Completed triggers in GrassBlade LRS to send completion status to WordPress. If you want failed statements to also mark the lessons as completed, you will need to create an additional trigger for the failed verb.
In GrassBlade xAPI Companion version 1.6 and above, failed or passed will also look at a configured passing percentage to decide completion.
If WordPress URL is: http://www.example.com/
Trigger URL will be: http://www.example.com/wp-admin/admin-ajax.php?action=grassblade_completion_tracking
If it doesn't work, try using the WordPress URL as Trigger URL. One of the other may or may not work depending on the theme and plugins you are using on the site.
If you are using a plugin that restricts the entire website including an ajax URL without login, Triggers may not work. Make sure you include HTTP:// or HTTPS:// in the URL.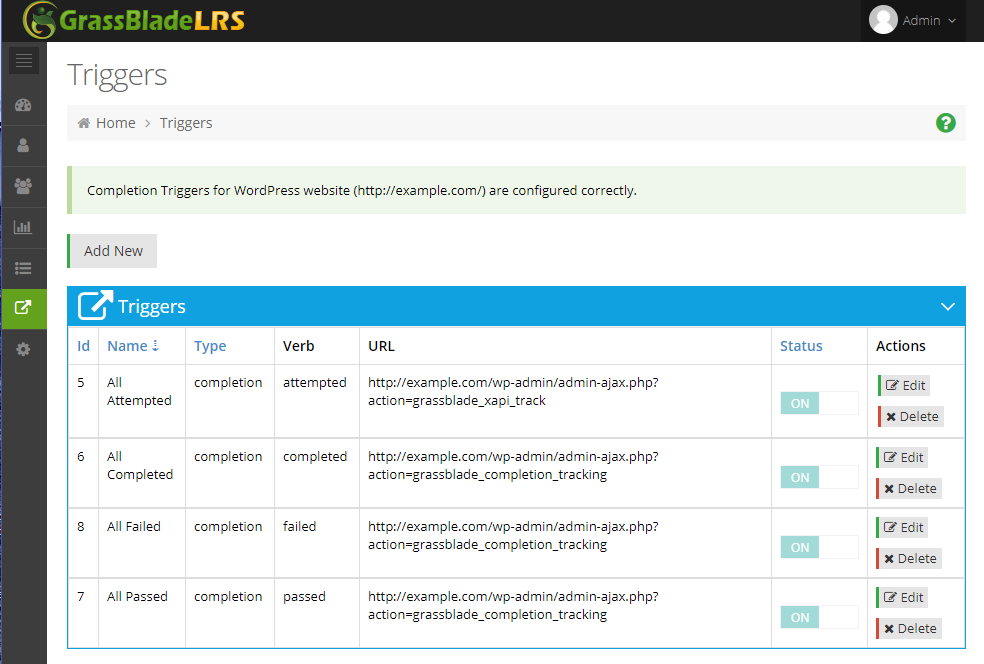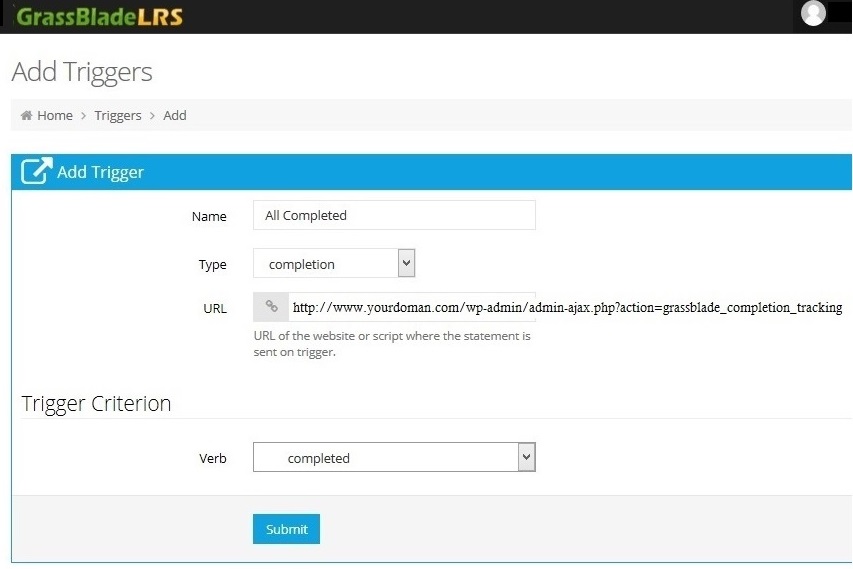 Add Attempted/Launched Triggers in GrassBlade LRS
(Needs GrassBlade xAPI Companion v1.6.3+ and LearnDash v2.5.8+)
If you want course status to show "In Progress", as soon as a user starts a content under that course. You can add an additional trigger for the "attempted" verb.
You might need to use the "launched" or "initialized" verb if that is what your content is sending instead of the "attempted" verb.
Please note that the Trigger URL, for this is different from the completion Trigger URLs.
Verb = Attempted
Type = completion
Trigger URL = http://www.example.com/wp-admin/admin-ajax.php?action=grassblade_xapi_track
(If WordPress URL is: http://www.example.com/)
Enable Completion Tracking
Go to the xAPI Contents section in your WordPress. Add or Edit the existing xAPI Content you want to enable Completion Tracking for.
Scroll down to xAPI Content Details section.
Tick the "Completion Tracking" checkbox.
Select completion type as per the requirements to set Advanced Completion Behaviour.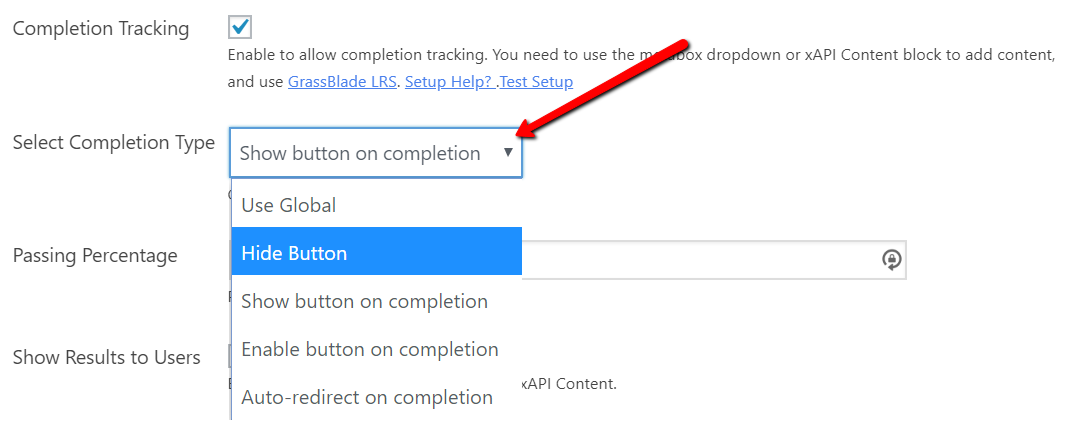 Showing Results to Users
You can show results to users by enabling "Show Results to Users" on your xAPI Content page. See: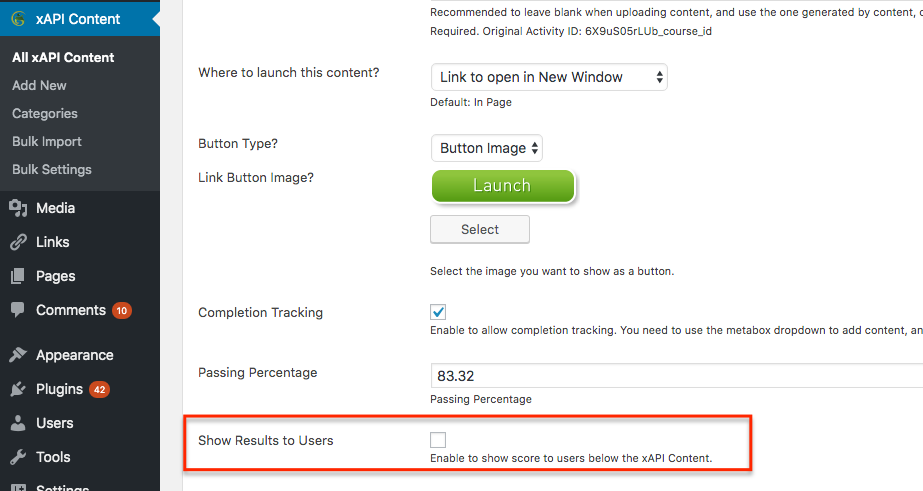 After this, users would see the results below the content: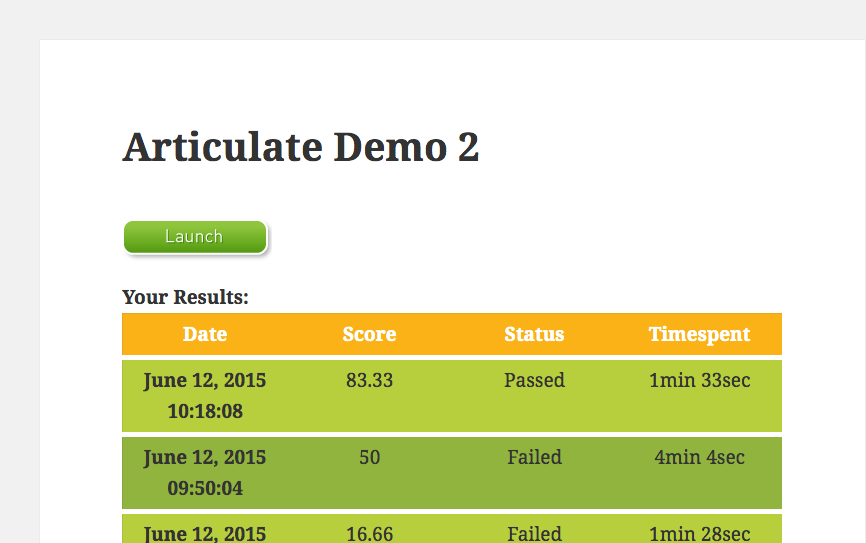 On the Course page, you will see the Quiz, Lesson or Topic where you added the content is now checked and green:

NOTE: Go to this article if you face any issue: Completion Tracking Not Working
Still facing issues, feel free to contact us.
Next Steps:
1. Add content on Lesson/Topic/Quiz page