GrassBlade xAPI Companion and GrassBlade LRS are developed by Next Software Solutions. Let's know more about them individually to get a clear understanding.
GrassBlade LRS
GrassBlade LRS is a Learning Record Store where all tracking data and progress of learners are stored. This data comes from various sources:
xAPI, cmi5, or SCORM content
Videos
Page Views
Quizzes
Games & Simulation
Websites or Apps
GrassBlade LRS receives it in the form of JSON statements and you can see this data in human-readable form in your LRS. GrassBlade LRS provides different reports from this data or you can create your own reports using the filters.
It helps you understand how each learner is performing by providing details of course completion, passed/failed status along with score and answers to the quiz questions.
is GrassBlade LRS a WordPress plugin?
GrassBlade LRS is NOT a WordPress Plugin but works with WordPress using the GrassBlade xAPI Companion integration. Any other source that can send data to an LRS can send it to GrassBlade LRS.
You can track every activity of a particular learner. Additional untracked activities can be tracked using some custom code to send the data to the LRS.
If you want to know more about GrassBlade LRS check it out at GrassBlade LRS
GrassBlade xAPI Companion
A WordPress plugin for complete HTML5, xAPI (Tin Can), cmi5, and SCORM packaged content support. GrassBlade xAPI Companion allows the uploading and playing of content exported from any authoring tools like Articulate Storyline, Rise 360, Captivate, Spring, and many more.
Key Features:
Upload Content (HTML5, xAPI, cmi5, SCORM 1.2, SCORM 2004 and Video)
Add and play content on any page/post/lesson/topic/quiz
Launch Modes

In-page
Popup Lightbox
NewTab Window

Advanced Video Tracking
Completion Tracking
Events Tracking
Advanced Completion Behaviour
Adds LRS Support
WordPress LMS Integrations and much more.
GrassBlade xAPI Companion is the first and best available plugin for adding Experience API and SCORM support on WordPress.
It can SSO with GrassBlade LRS, so you will be able to see all your learner's data directly in your WordPress dashboard.
To know more about this plugin, check: GrassBlade xAPI Companion
Which product do I need?
To decide which products you will need for which features, you can refer to the chart below (click to enlarge):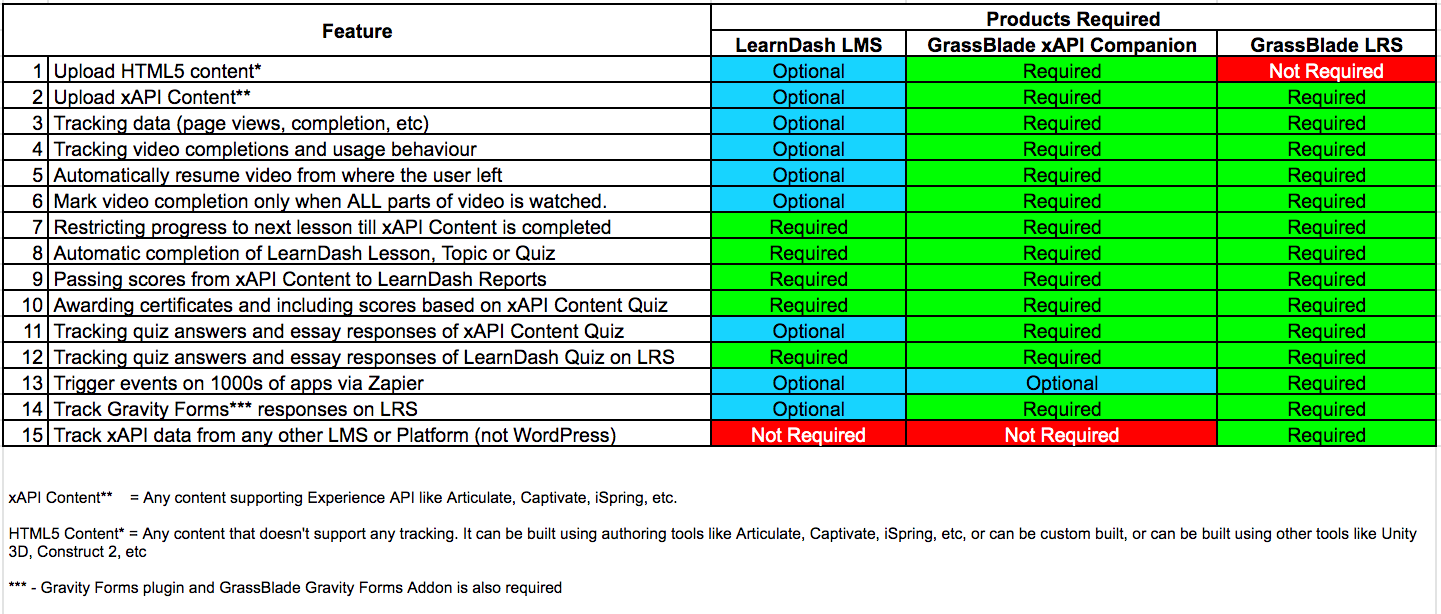 Conclusion
These two tools are completely different, where GrassBlade xAPI Companion is a WordPress plugin and GrassBlade LRS is a Learning Record Store. They have their own work and can be used together for a complete eLearning solution.