GrassBlade xAPI Companion is one of the best plugins to upload xAPI enabled content. It seems you have installed and configured our plugin, if not, read our installation guide. Our plugin provides multiple ways to upload your xAPI based content on WordPress.
Before uploading your content on WordPress please read our best export settings guide for different authoring tools.
Our plugin has the following ways to upload your content:
Let's check them out.
Direct Upload Method
Step 1:
Go To your WordPress Dashboard (wp-admin) > xAPI Content > Click Add New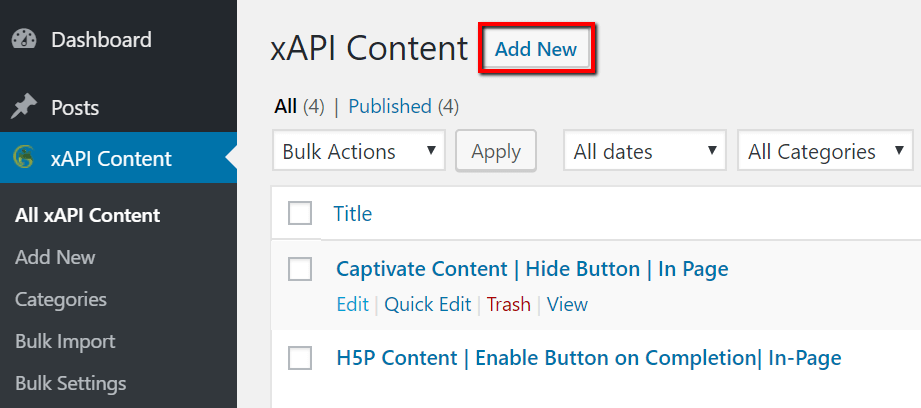 Step 2:
Scroll down to xAPI Content Details section, Select Choose a File to upload xAPI content zip file.

Step 3:
Now click the Update button to upload the xAPI content.

You have successfully uploaded your xAPI Content on WordPress site.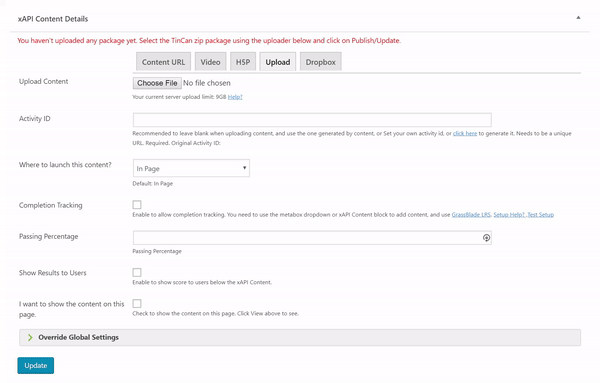 You can either enable "I want to show this content on this page" checkbox or, add the content on any other page, post, lesson, topic or quiz.
Read: How to Add xAPI Content on Post, Lesson, or Quiz?
Note: Direct Upload method may not work for large files if your server has restricted upload limits.
You can use the Dropbox method to import large files or follow a few other methods supported by GrassBlade xAPI Companion.
Video File Upload and Links
GrassBlade xAPI Companion allows uploading video files on your server, you can also use Vimeo and YouTube video URL to use them as xAPI Content.
It will work as xAPI Content and you can get advanced video tracking in learning record store.
To upload or use YouTube or Vimeo video as xAPI Content follow the given steps:
Step 1:
Copy video URL from YouTube or Vimeo.
Step 2:
Go to WordPress dashboard > xAPI Content > Add New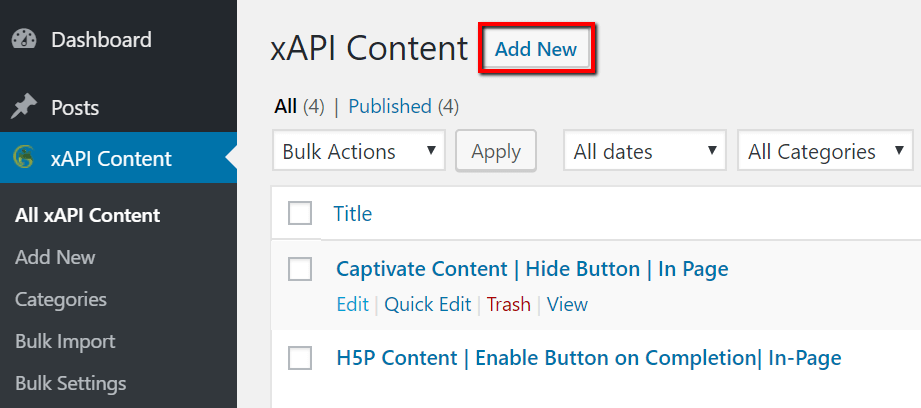 Step 3:
Scroll down to xAPI Content Details section, Select Video tab from upload section.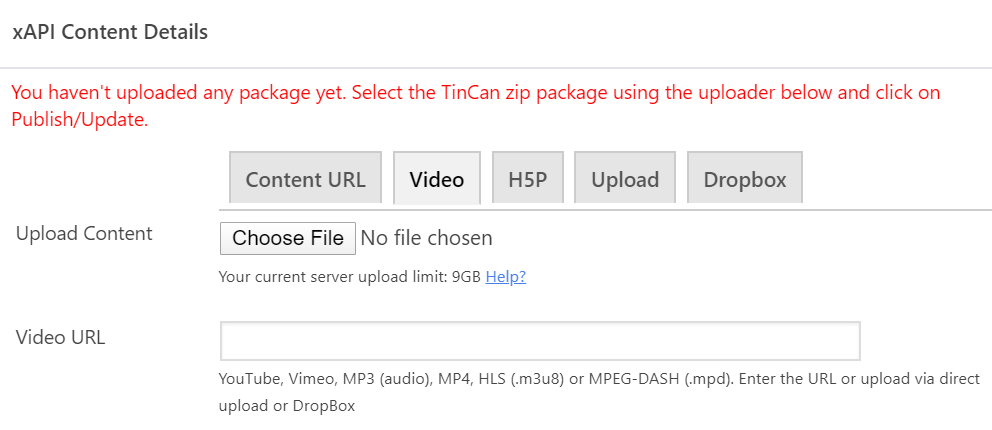 Step 4:
Select Choose File option to upload or enter Video URL.
Step 5:
Click the Update button to publish.
Currently, GrassBlade xAPI Companion support multiple video formats (MP4, HLS (.m3u8), MPEG Dash (.mpd)) including YouTube and Vimeo videos too. MP3 format is also supported with tracking.
DropBox Method
Our Plugin supports Dropbox method to upload big course files if you have some big course files to upload. This method will be best for you. It will require you DropBox app key to authenticate and fetch content.
Read More: Dropbox upload for large xAPI Content packages
Bulk Upload
If you have some big and many files to upload, you can do it in an easy manner. Our plugin has bulk file upload method support. You can follow this guide to Bulk Upload and Configure multiple xAPI Content.
Upload via FTP
GrassBlade xAPI Companion also supports content uploaded via FTP, if you have the support of FTP. Read this guide: Uploading content by FTP
Our plugin provides these best and easy methods to upload and publish xAPI enabled content on WordPress website. If you're having any problem in upload please refer to this article: Error in Upload xAPI Content.