Wanna upload and publish your iSpring course on WordPress website. I'm writing a step by step guide, which will help you upload your iSpring course on WordPress website. Let's do it.
iSpring is a course authoring course tool which works with Microsoft Powerpoint. It really extends the usability of MS Powerpoint.
Requirements:
WordPress Website
iSpring Course
Plugin: GrassBlade xAPI Companion
GrassBlade Cloud LRS or GrassBlade LRS for tracking.
Export Course with Tracking
Step 1:
To get a uploadable .zip file, Click Publish in iSpring Suite 9 section.

Step 2:
Select LMS option and choose Experience API (xAPI) as LMS profile. You can check "Use iSpring Play app" option, if you want the course to play in iSpring app on mobile, else, uncheck to play it in browser.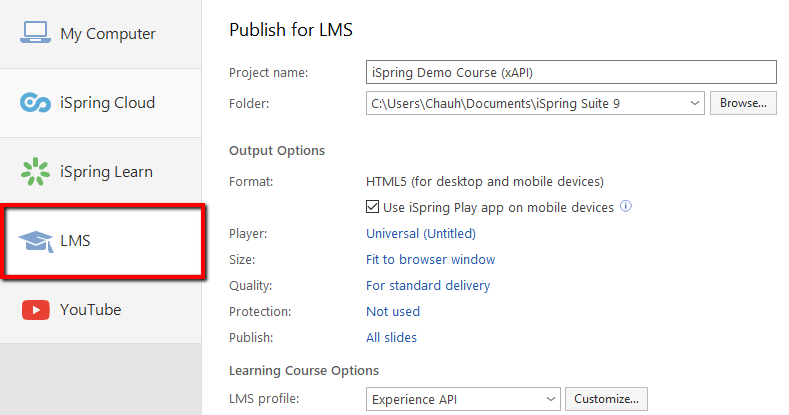 Step 3:
Click Customize option to make changes in your LMS profile settings.

Step 4:
In the Identifier field, enter your course identifier. This is usually a short name or course number. Do not use spaces, but use underscores or dashes between words if needed.
This is the field the GrassBlade LRS will use to track your course statements, so make sure it is unique. If you use the (random) default ID, it will work but will be difficult to identify your courses in the LRS statement list.
Note: If you update your course in the future, make sure you use the same Identifier when you update your Grassblade xAPI content within the course.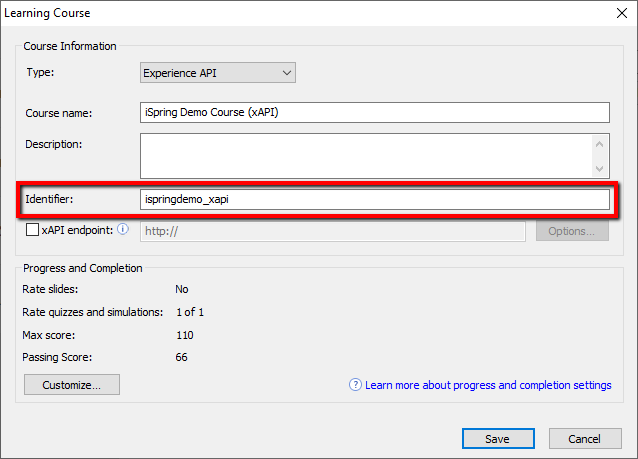 Step 5:
Click Customize in Progress and Completion section to make change in course tracking and quiz marks.

Step 6:
In course "Progress and Completion" settings, you have several settings:
a: Max Score: This will be taken as max score for overall course. If you are using quiz, it might be best to set it to the max score obtainable on the quiz. This will be sum of points on all questions.
b: If you check "Rate number of slides viewed" option, score will be awarded based on number of slides viewed.
c: If you check "Rate quizzes and simulations", score is based on the quiz score. If max score on quiz and max score on course you set above is different, the scores will be scaled keeping the percentage as same.
d: If you check both the above options, half of the max score weightage will be given to slides viewed, and half of it will be based on quiz score.
e: Custom passing score: This will set the passing score (out of max score) to pass the course. If you are using quiz based scoring, it is best not to override it here.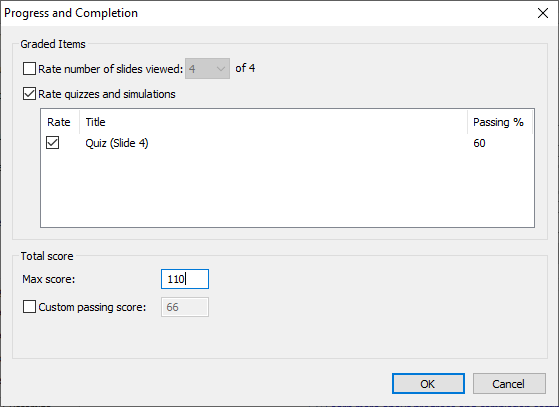 Step 7:
Save all the above settings and Click Publish.

For Tracking Feature, you have to connect GrassBlade xAPI Companion plugin with some LRS, you can use GrassBlade Cloud LRS or Simple GrassBlade LRS for better results.
or Export Course without Tracking
Step 1:
To get a uploadable .zip file, Click Publish in iSpring Suite 9 section.

Step 2:
Now Click My Computer and select HTML5 option in publish settings.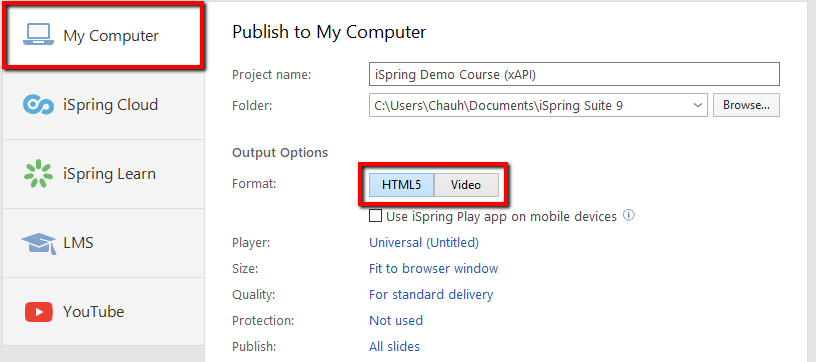 Step 3:
Click Publish.

After this you get your .zip file to upload on WordPress website.
Upload File
Step 1: To upload your course on WordPress website, you need to install our GrassBlade xAPI Companion plugin on WordPress website. Please read this: How to install GrassBlade xAPI Companion Plugin?
Step 2: After getting .zip file of your course, please refer to this article:Upload xAPI Content on WordPress with GrassBlade xAPI Plugin
We hope you like this information, please join us on Facebook and Twitter. Also you can join our Mailing list to get latest tips and tricks.