The installation and configuration process of GrassBlade LRS is very simple  you just have to carefully follow the steps given below.
Requirements
This article assumes that you have purchased GrassBlade LRS and you are using a hosting with cPanel (PHP/MySQL) or with some other File Manager. You can use other tools for installation like FTP, SSH and FileZilla.
Make sure your hosting meets the System Requirements
Download GrassBlade LRS
Step 1:
Note: If you're getting any error while installation, please read: GrassBlade Installation Error or you can alternatively order GrassBlade Installation service.
After successful purchase, you will get all the necessary details on your registered email id. Download the GrassBlade LRS zip file.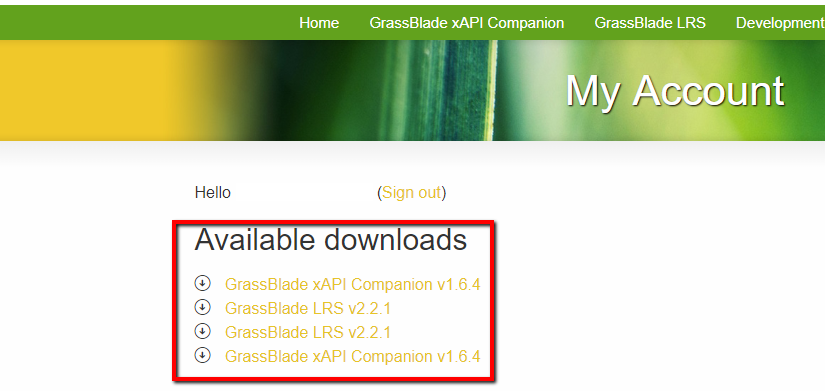 Step 2: If you are not able to locate the email. Go to My Account page and login.
You will see Available Downloads section, where all your purchased items are listed, click on "GrassBlade LRS". It will start downloading of .zip file.
Uploading to your Server
Step 3: Login to your cPanel account. And open the File Manager. If you are not using cPanel, use your favourite method to upload the files to your server.
If you are using cPanel, click on File Manager. Select your domain if you have multiple domains configured.
Go to the document/http root. The folder can be named public_html, htdocs, /var/www or anything else depending on your server and configuration.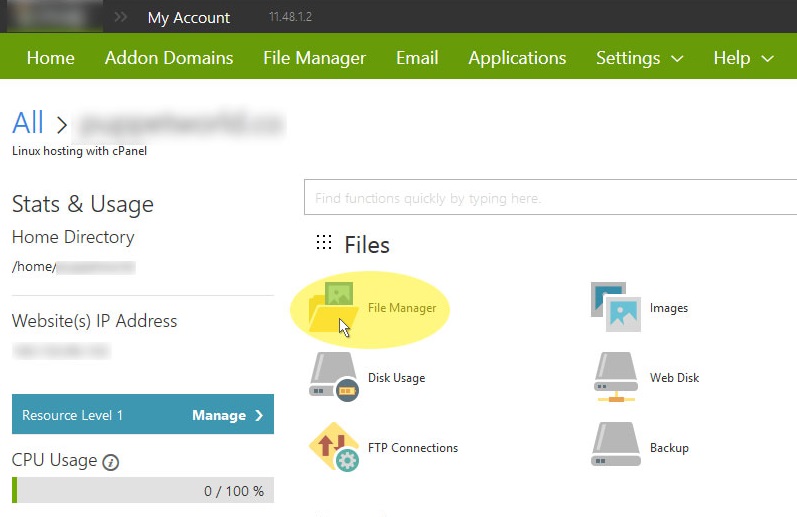 Step 4: Once you get in your File Manager (public_html), create a new folder named grassblade-lrs

If you use any other name for folder, you will need to make several file changes. Please check here.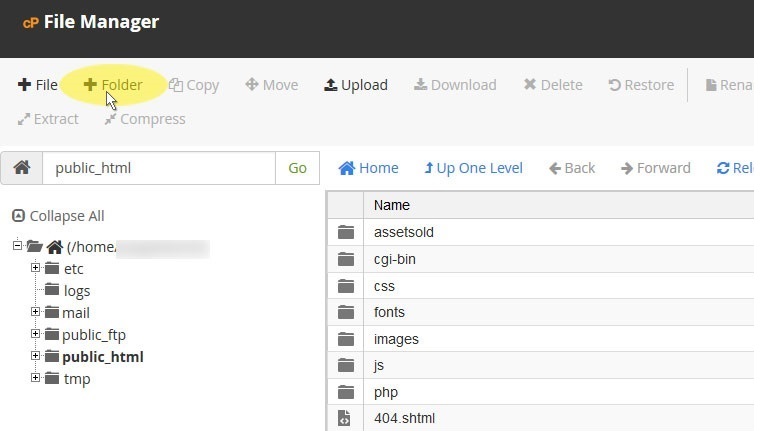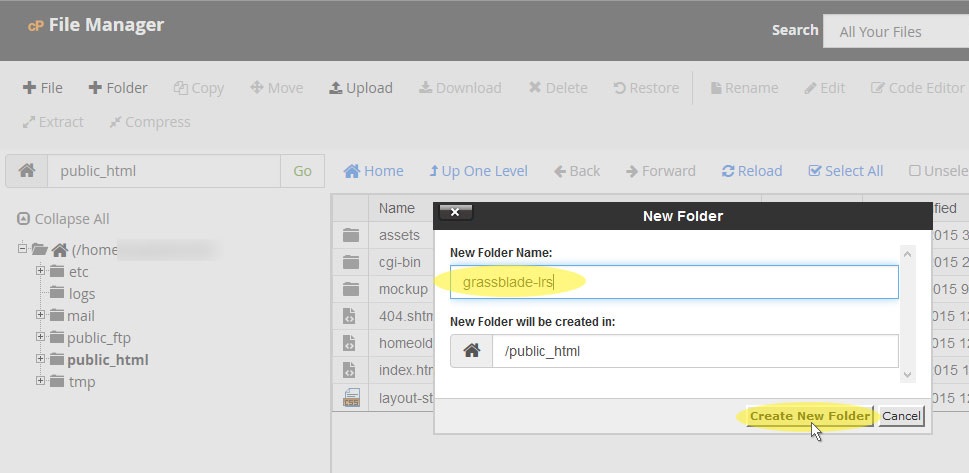 Step 5: Go inside the grassblade-lrs folder and click on Upload to start the upload process. Click Browse and select the grassblade-lrs-vX.X.X.zip file you had downloaded in first step to be uploaded.
If you are using FTP, Filezilla, or any other tool that doesn't support extraction of zip file on server, you will need to unzip the downloaded zip file and upload all the files here. Double check that you are uploading the files inside "grassblade-lrs" folder.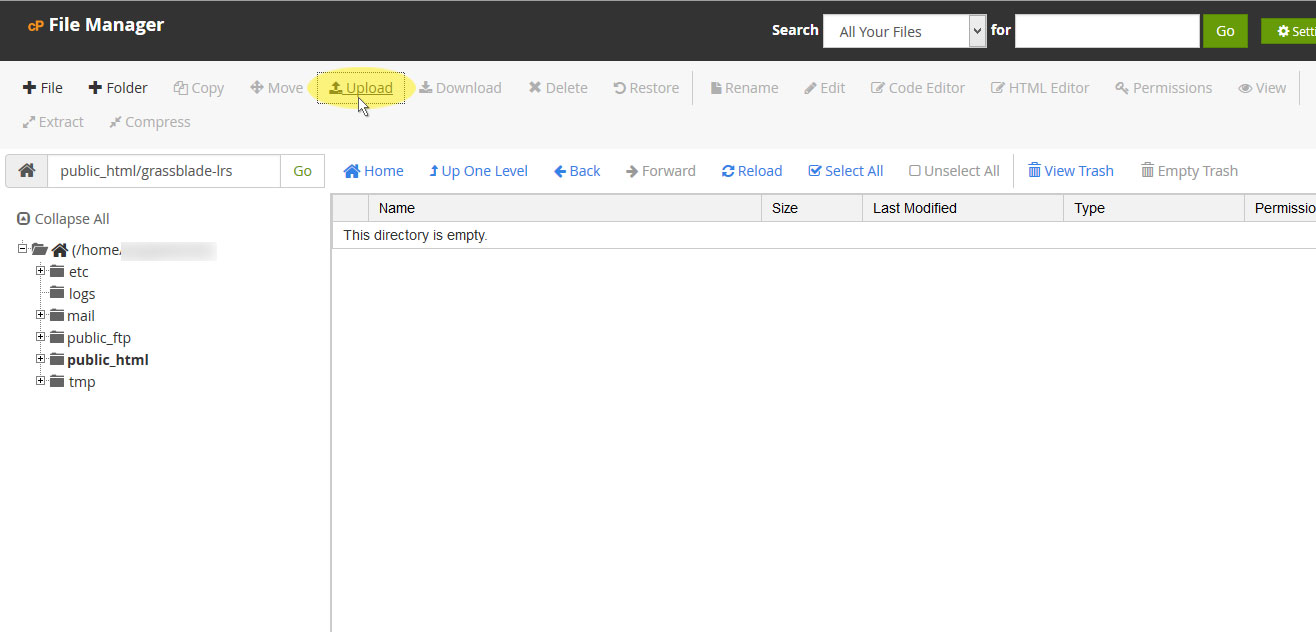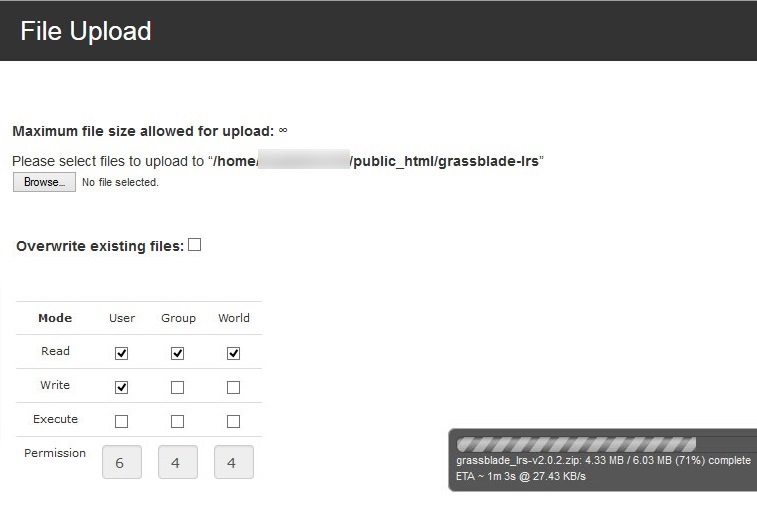 Wait till the file is uploaded and then go back to your File Manager.
Click on Reload if the file doesn't show yet.
Extract File
Step 6: Select your file and click Extract option.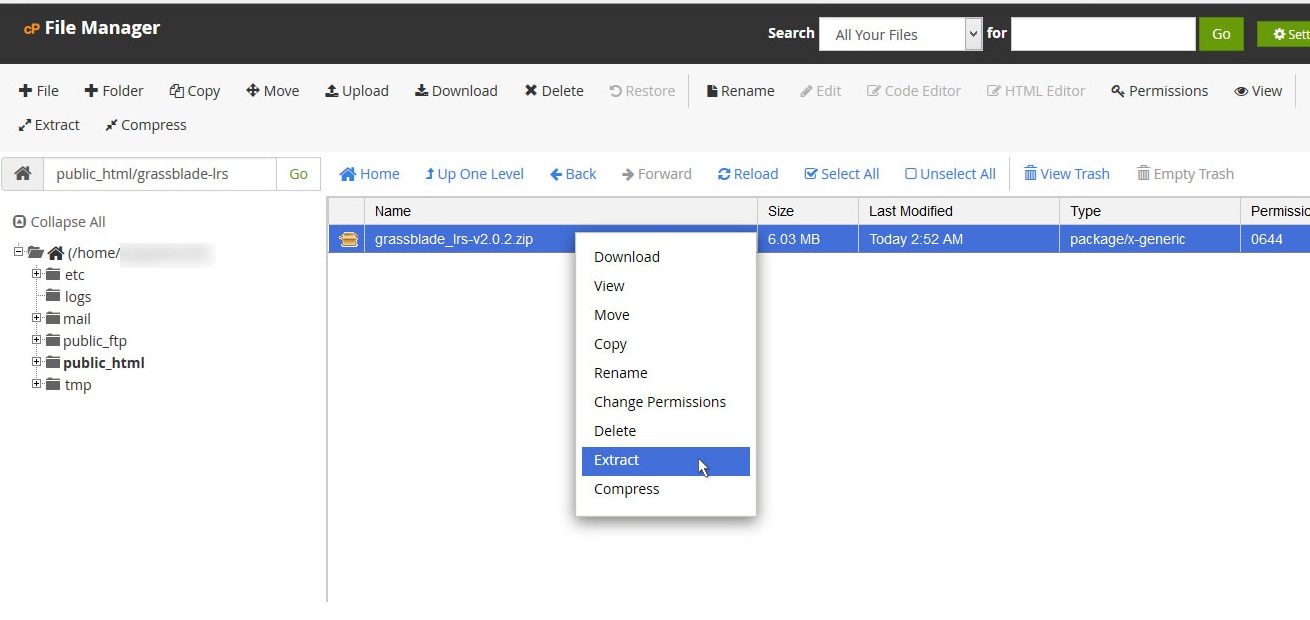 Make sure the path points to the "grassblade-lrs" folder, and click Extract File(s) button.
Close the extraction window, and press reload to see extracted files.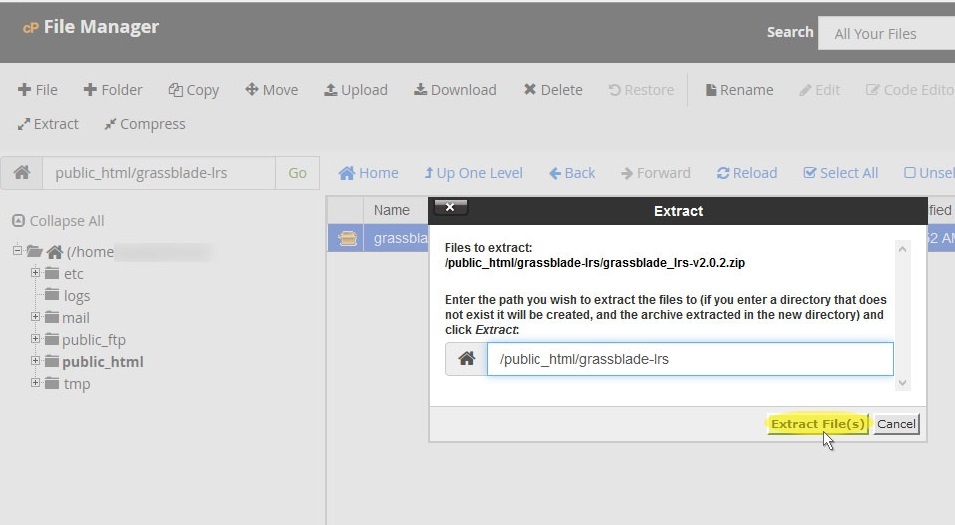 Now you have extracted GrassBlade LRS successfully, it's time to configure GrassBlade LRS with database, to save learners data.
Setup and Activation
Step 7: Database Configuration
In your browser, go to: http://www.yourdomain.com/grassblade-lrs you will be redirected to http://www.yourdomain.com/grassblade-lrs/Configure/Database
You will see Database Configuration page. Configure it with your database details by entering these details:
Database Name
Database UserName
Database Password
Database Table Prefix (Optional)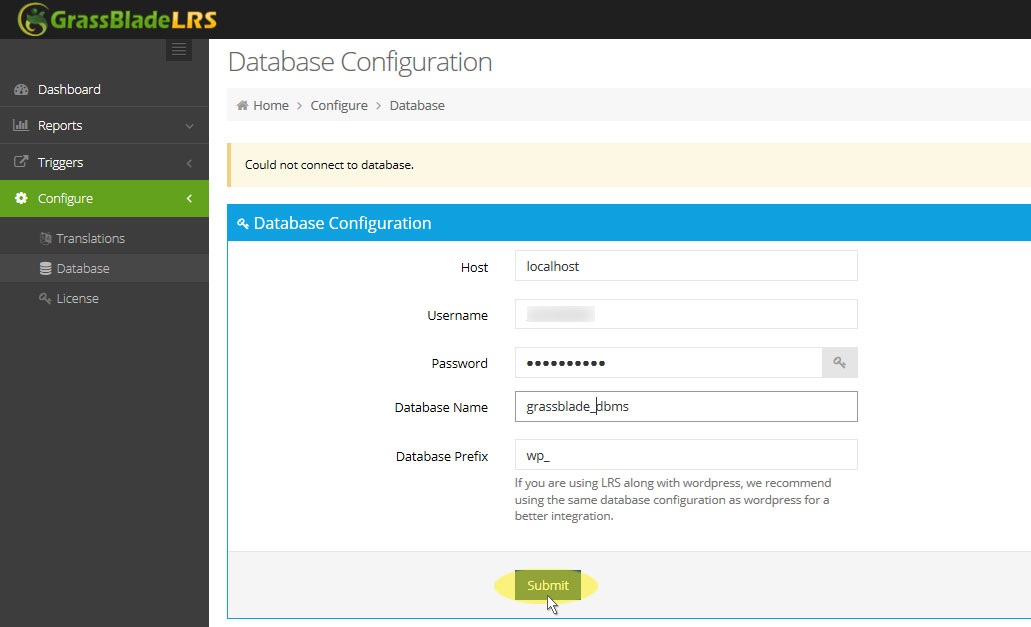 Enter your database details and click submit. Its preferred that you use the same database login details and prefix if you are planning to use the LRS with WordPress and GrassBlade xAPI Companion plugin for Articulate. (see reference)
Using same database currently has only one advantage: If you are using Articulate, you can use the feature to import Translation which helps you see content name, slide name, questions and answers instead of odd url ids that Articulate sends.
If you do not have a database, create a MySQL database by following these steps: How to Create New Database in cPanel?
Note: If you're getting any error while installation, please read: GrassBlade Installation Error or you can alternatively order GrassBlade Installation service.
Step 8:
Your database configuration file will be created automatically if php has write permission, or you will get a piece of code. Copy it and create a file with the content as instructed.
You will see that several database tables are created. If you see a bunch of messages and errors, refresh the page a couple times.
Step 9: You will see a message showing, "Database configured and connected".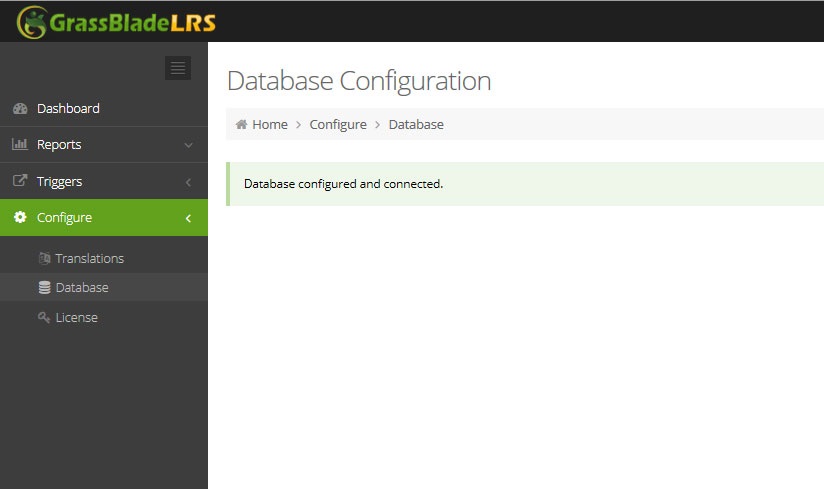 Step 10:
Installation is done, click on Login to continue logging in with default admin login:
Email: admin@nextsoftwaresolutions.com
Password: admin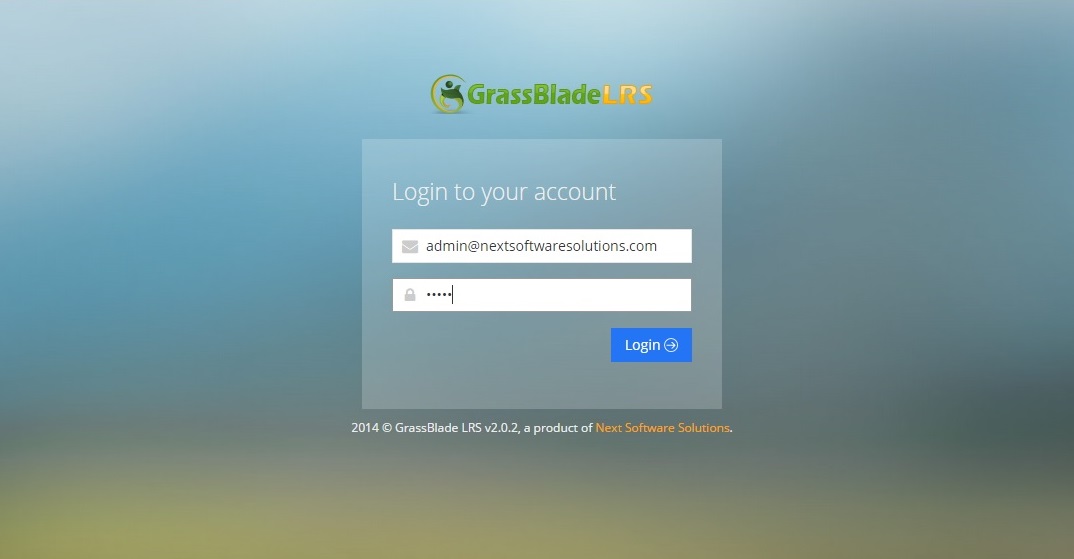 Step 11:
You will see the License settings page, configure the license email and key from the email you have received.
If you see an error, please make sure: 
i. You are using the license key for GrassBlade LRS and not GrassBlade xAPI Companion
ii. cURL is installed and enabled for PHP.
iii. If, you are using the LRS on localhost, or on additional test site, please check this article.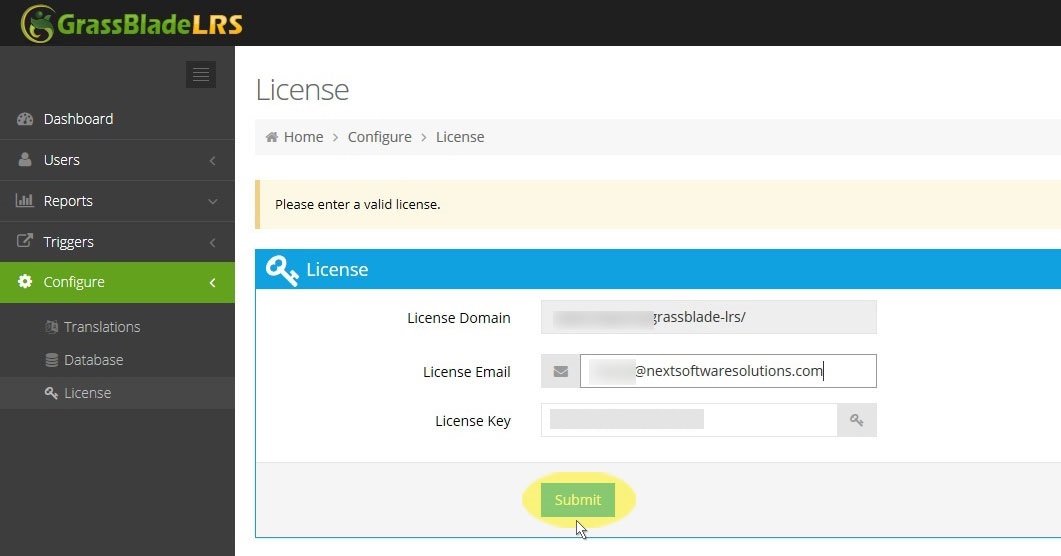 Related Article: Where can I find my license key?
Creating a Manager
Step 12:
Make sure you change the default admin credentials by going to Managers > All Managers and clicking on Edit.
Create a new manager by going to Managers > Add New. Enter the details and select the Role "user". Click Submit to save.
PS: Please note that "Manager" was earlier named as "User" and hence you might find both words used inter-changeably at some places.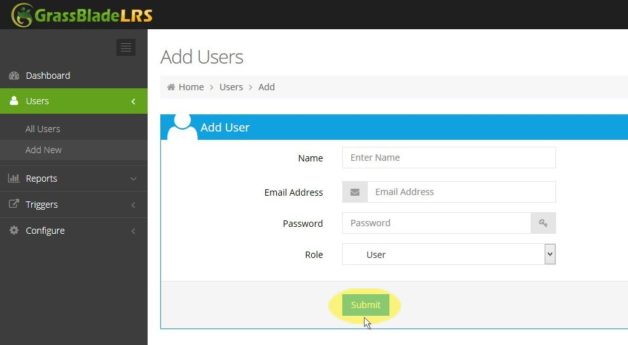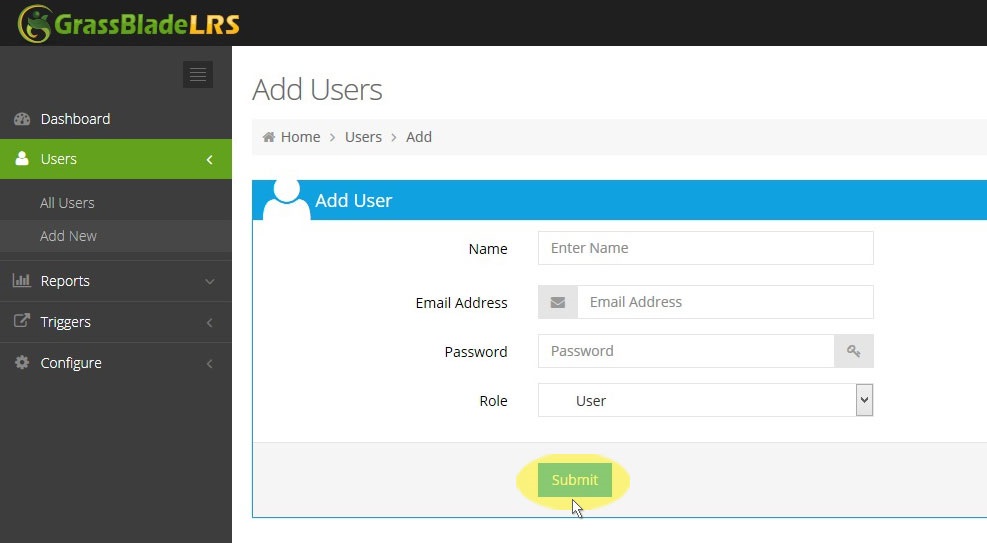 Generating xAPI Basic AuthToken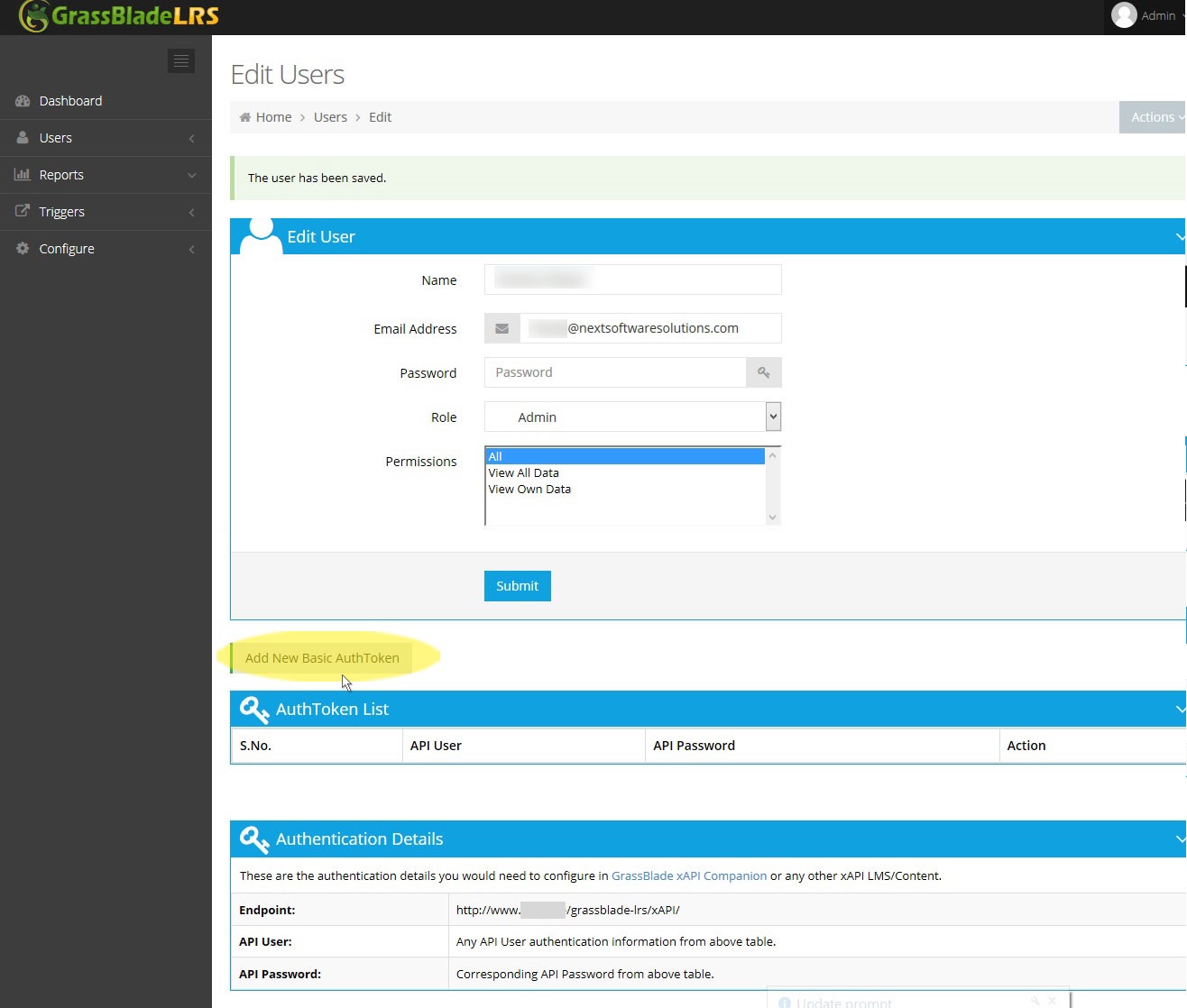 Step 13: On the Manager Edit page for this new manager. Click on "Add New Basic Auth"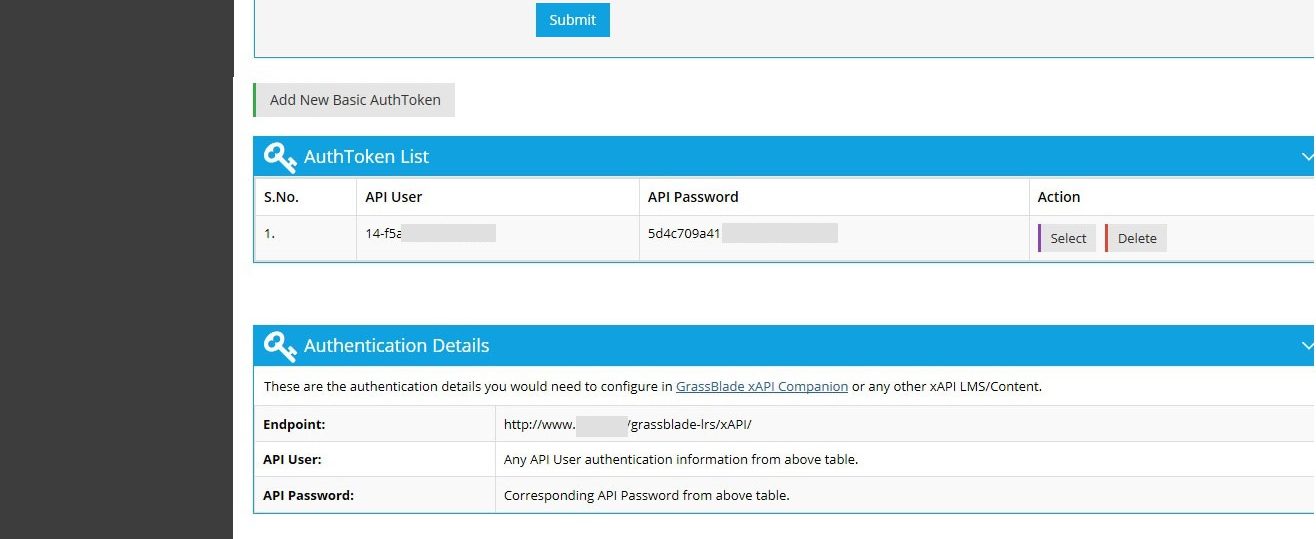 Step 14: Auth details for your xAPI Program
Copy the API User, API Password, and Endpoint URL and use it in your xAPI Program, LMS or Content. If you are using GrassBlade xAPI Companion for WordPress, you need to configure it in your GrassBlade Settings page on WordPress.
Congratulations !! Your LRS is ready to record statements.
Note: If you're getting any error while installation, please read: GrassBlade Installation Error or you can alternatively order GrassBlade Installation service.
Read More: How to configure GrassBlade xAPI Companion with GrassBlade LRS?
We hope you got this information useful for this LRS configuration. For more latest product updates and information get in touch via Facebook and Twitter.