What if you can see which parts of a video are watched by the users. When a user paused or skipped it, and you're able to check the most-watched portions of the video. On top of it, these reports are personalized for each user.
Now, everything mentioned above is possible with the help of xAPI Video Profile and much more than that.
What is the xAPI Video Profile?
xAPI Video Profile is a project of ADL to develop a tracking standard focused on video content. It is a part of the xAPI specification that takes care of video content reporting to LRS.
The first version of this profile was released on May 9th, 2019.
Our Work: Advanced Video Tracking with xAPI Video Profile
What you can do?
xAPI Video Profile is aimed to capture events happening on the video content. It works like "John paused the video", xAPI makes it easy to understand incoming data.
In xAPI terms:
Actor: John
Verb: Paused
Activity: Watching Video
These are some basic activities and verbs that are related to the xAPI Video Profile.
| Activities | Verbs |
| --- | --- |
| Play | played |
| Pause | paused |
| Completion | completed |
| Volume Change | interacted |
| Skipping Video | seeked |
| Full Screen | interacted |
It can capture detailed information like device, OS, browser, screen-size, time spent, watched sections of the video. Also, video can be resumed, whether a user left it in PC and resumed in a cell phone, it will work.
This information is accessible with the help of extensions available in this profile. All this is just a basic thing, its real potential depends upon what you want to achieve with xAPI Video Profile.
Why We Need It?
There are several reasons that will let you fall in love with advanced video tracking. There are benefits that attract you to do something, probably these benefits will let you understand the need for video tracking with xAPI.
1. Measure Engagement
What if? your learners are not watching complete content and just clicking next to complete the course. If you do not implement any tracking system that monitors what your user is doing with the content. You cannot claim the success of your efforts.
With video tracking, you can check reports of every individual learner and understand what they did.
2. Better Understanding
Do you know? With xAPI you can track segments of the video watched by a user? It also tracks sections watched again and again.
It shows that the user liked the content or having some difficulty in understanding that part of the video. You can check the video yourself and solve the problem of your learner.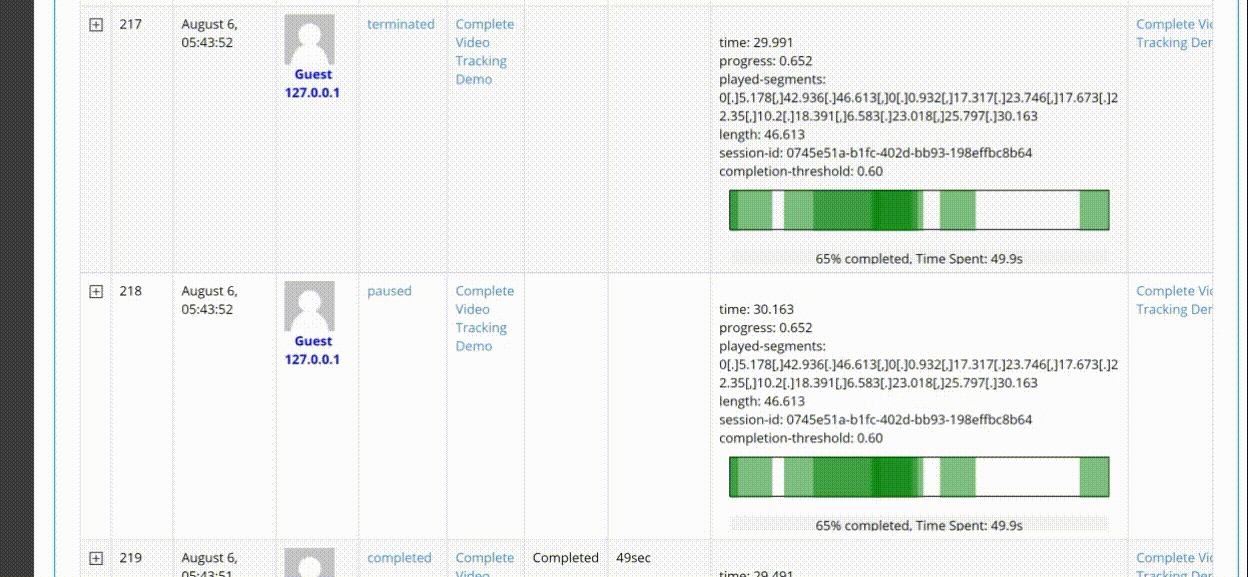 3. Improve Content
Here is a big picture of this tracking, you can improve the content by understanding the user behavior. It will put a stop on guessing behavior and shows the reality on the basis of performance.
4. Full Control
To understand this, here is an example of what we're doing.
We integrated the xAPI Video Profile in GrassBlade xAPI Companion plugin for WordPress. It allows uploading, adding, tracking xAPI and SCORM Content in WordPress pages and integrating LMSes.
It can get an enormous amount of xAPI data in GrassBlade Cloud LRS from video content.
But, can you control the behavior of the Mark Complete button on the lesson of an LMS?
How does it work?
When you add video as xAPI Content in GrassBlade xAPI Companion and launch it in any integrated LMSes.
Video xAPI Content settings:
Mark Complete button Behaviour: Enable on Completion
Completion Percentage: 70 percent
When a user attempts to play the video content and watch at least 70 percent of the video.
A completed statement is sent to GrassBlade Cloud LRS and it will trigger the percentage and send it back to WordPress and match the set percentage [i.e 70 percent].
Once matched, it will enable the Mark Complete button under the lesson of integrating LMS. Now user can click and complete the lesson.
This way you can control the behavior of your user and restrict the completion until a set criterion is matched. You can do a lot more things this way.
It is not required to watch video in a linear manner, user is free to watch any segment of the video. Completion will still work.
Conclusion
Videos are pretty easy to record, edit, and serve as eLearning content in comparison to content created with tools like Articulate Storyline. Authoring tools have xAPI Spec that lets you track detailed activity reports but on video content, there is no tracking available.
Currently, no other tool is available that lets you track this sort of data other than GrassBlade xAPI Companion.
If you need help in implementing the xAPI Video Profile, feel free to contact us.
For more latest and quick updates follow us on Facebook, Twitter, YouTube, and LinkedIn.