We are super excited to release this update because it is going to benefit the end-users using the H5P plugin to create content. But this update is not only for H5P user also there are a few more exciting things.
Feeling excited?
H5P Completion Tracking without LRS
You might know that previously GrassBlade LRS was a required component to track H5P Content completions. But now you do not need it to track H5P Content completion.
How to use?
To track H5P Content completion with GrassBlade xAPI Companion plugin, you need to set "Version" as "Not xAPI".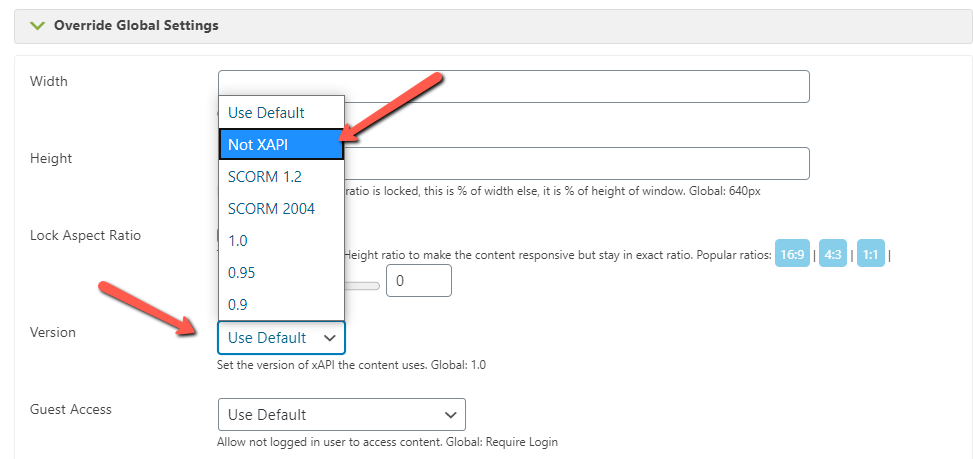 You can find this option in the Override Global Settings of your xAPI Content's edit page where you added your H5P Content as xAPI Content.
How it benefits?
It will benefit those people who do not want lots of user activities data but just want to track content completion also don't want to manage a Learning Record Store.
For Example, if you're using LearnDash LMS with H5P plugin to create content and want to track H5P Content completion added to the LearnDash LMS course. Also want to automatically mark complete LearnDash lesson, topic or quiz in the background when the user completes the added H5P Content.
You can do it all with this new GrassBlade xAPI Companion update without an LRS. Even advanced completion behaviour will also work and you will be able to disable or hide the Mark Complete button until the user completes the H5P Content added to the lesson, topic or quiz.
If you're using H5P Content in the LearnDash Quiz page, it will save the H5P Content score in the LearnDash quiz reports. But you won't be able to get H5P quiz question responses as you're not using GrassBlade LRS.
Completion on Module Completion
It fixes the completion not happening on iSpring or Articulate Storyline due to only one passed statement received in the LRS, specifically with old content on Chrome 80+.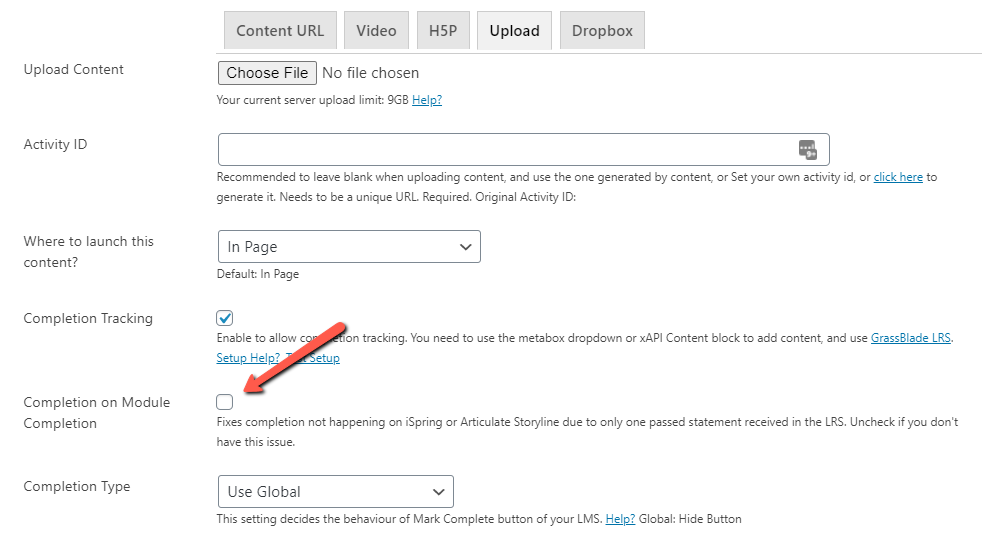 To give you better completion experience for your older and new xAPI Content, we added this option to mark complete lessons, topics and quizzes on the basis of modules in your xAPI Content.
It will surely help those users who have old xAPI Content packages sending completion status on the page refresh or tab closure.
As you know, after Chrome 80 update it was impossible to get completed or passed statement before page refresh with correct activity ID and that was blocking the Completion Tracking feature.
Now if you enable the Completion on Module Completion option, it will mark complete lesson, topic or quiz in the background on the basis of xAPI Content completion.
What else?
Optimized plugin code to give you better performance on older WordPress and PHP versions.
Improved content security for MP4, MP3, HLS and other video formats.
Improved generate activity ID feature.
We hope you find this update useful, if you have any feature suggestions or facing issue while using any features, feel free to contact us.
For more latest and quick updates follow us on Facebook, Twitter, LinkedIn and YouTube.