LearnDash is a popular WordPress LMS plugin packed with lots of features and has worldwide clients. To make your LearnDash LMS a complete learning environment, you can use the following plugins to make it advanced and user-friendly.
LearnDash LMS is a plugin for WordPress to create an LMS environment on your WordPress site. It has lots of features, and WordPress is flexible to get your job done.
Best Plugins for LearnDash LMS
I'm recommending you a few plugins for LearnDash to make your course management easy to use. These are free and paid plugins, and you can try them as per need.
Zapier is a powerful solution to set things on automation, and LearnDash recently did the integration with Zapier.
As per LearnDash, "The LearnDash Zapier integration empowers you to automate the learning experience. Using Zapier, you can connect LearnDash with over 1,500 applications, and automatically pass data from LearnDash to another application of your choice."
So, you can create a zap to start connecting with apps and set things on automation.
Add HTML5, Experience API (xAPI or Tin Can API), SCORM, and Video reporting in LearnDash LMS. You might know, that LearnDash LMS does not support these eLearning standards out of the box. But with this LearnDash LMS integration, you can do a lot of things.
If you're planning to take a deep insight into your learner's behavior, GrassBlade xAPI Companion is your best bet.
It adds support for content exported from tools like Articulate Storyline 360, Rise 360, Adobe Captivate, and iSpring Suite, and more. You can upload and track them completely.
It can do Advanced Video Tracking with the support of xAPI Video Profile 1.0. You can track YouTube, Vimeo, and most video formats.
With features like Events Tracking, you can track activities happening on your whole WordPress website. Like pages visited, login/logout, enrolled/unenrolled created/deleted, and many others.
GrassBlade xAPI Companion works with LRS or Learning Record Store to store information on the learner's behavior. You can try GrassBlade Cloud LRS or any other LRS of your choice.
GrassBlade Cloud LRS also has tight integration with LearnDash and Zapier.
Content cloner is an addon for LearnDash, and available for free. It makes it possible to clone the entire course in one click, including all associated lessons, topics, and quizzes.
Using this add-on, you can do mass-update the titles of the cloned course and linked content.
The best use case of the content cloner plugin is, you can create a basic template and copy-paste it to make other courses.
We often add similar information to many courses. Like instructions, this way you don't have to add and edit the same information again n again.
After LearnDash v3.0, it is loaded with lots of new UI improvements, and it got all new LearnDash focus mode.
But still, LearnDash has fewer customization options available. For customization, you can try this free plugin for custom color coding and UI upgrade for the course.
You can edit:
Font Colour
Button color
Add Animations
Focus mode customizations
Login/Registration and more.
A paid version of this plugin is also available. With lots of new features and great UI effects to meet your all LearnDash design needs.
Points and rewards help to get users engaged with the content. You can try LearnDash integration for GamiPress to derive user engagement.
With this integration, you can award points for a lesson and topic completion. Also, you can award points for performing other activities like comments or posting in forums.
For Example, you can award points for:
When a user finishes a quiz of a specific course with a maximum percent grade.
When a user successfully passes a quiz.
When a user completes a lesson.
When a user uploads an assignment.
When a user finishes a course.
When a user finishes a topic of a specific course.
This way, the user performs activities to get a badge, and they learn more about available site features.
LearnDash allows you to sell your courses to individual users and make money, internally it has integration with PayPal and Stripe.
For a large scale LMS and other payment options, you can try this popular eCommerce plugin with LearnDash. It has tight integration with LearnDash and can handle user registrations and course enrollment better than any plugin.
If you're planning for a large eLearning website with LearnDash, you must use WooCommerce. It is a very robust and trusted plugin.
I have seen many LearnDash users who want to show or hide website elements according to users enrolled in the course.
This free plugin allows you to do the same thing, you can show hide anything from the website based on access to the course and user's state. (Logged In or Logged Out).
You just have to add CSS class to show or hide any element of the website.
Bonus Plugins
These plugins are for special needs, you might wanna try them for your special cases.
As its name suggests, it automatically marks complete the lesson and topic in the background when a user visits the page. So, there is no need to click the mark complete button.
It is helpful when learners are young kids or someone elderly taking the lesson, and they are not very fond of internet tech.
However, the button is present on the page, and if the user clicks the button, it will act as the Next Lesson/Topic button.
If you're looking for a plugin to bulk mark complete the lesson, topic, or quiz for learners, then this plugin is your choice.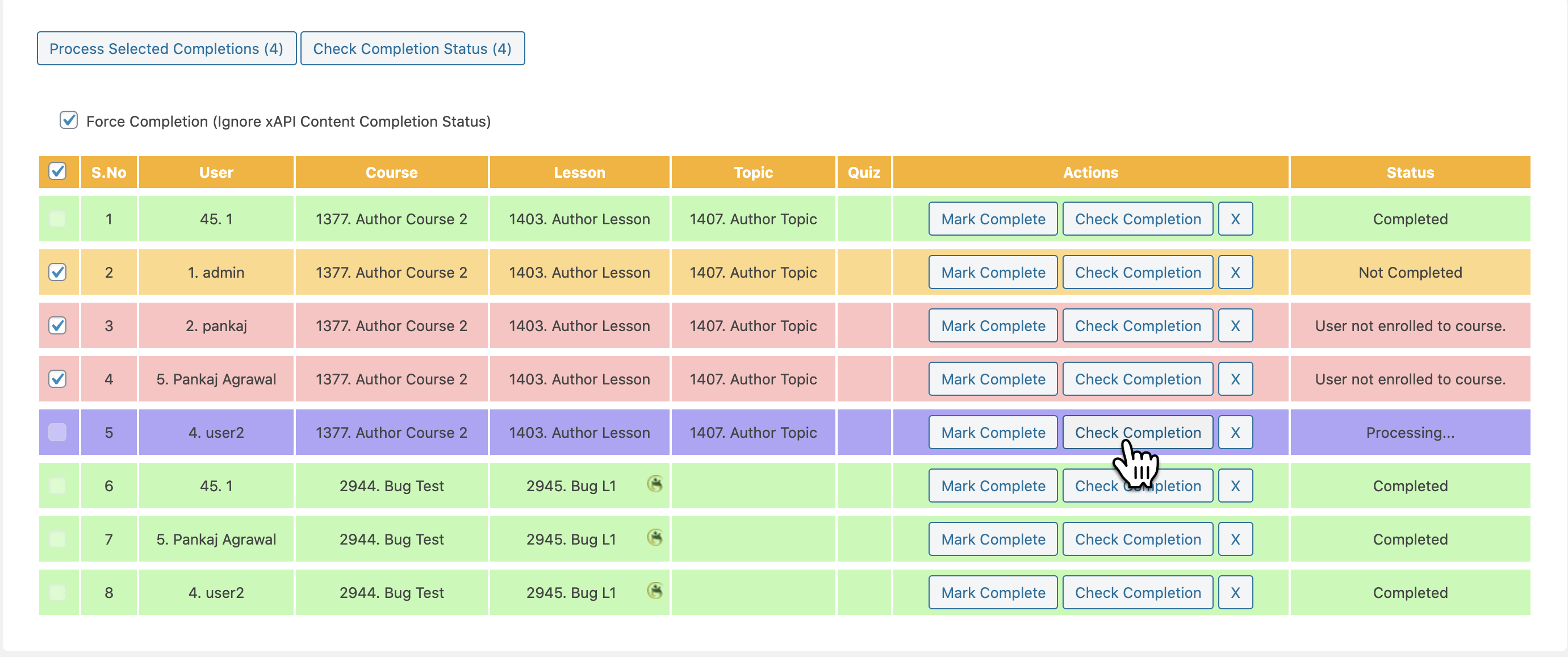 It comes with easy to use interface, that allows you to select a course, lesson, topic, and quiz followed by the learner's name. Live search functionality is also there to make your work easy.
It is an addon plugin for LearnDash and GrassBlade xAPI Companion, so you need both plugins installed and active.
At the End…
Plugins are an essential part of WordPress, and these few plugins are to create excellent LearnDash website environment. Learn more about them and implement them as per need.
I hope you will find this information useful. Share your valuable feedback in the comment section.
For more latest and quick updates follow us on Facebook, Twitter, YouTube and Linkedin.