At GrassBlade, we're always keen to solve the problems of our users. It's been long since we're planning and working to create a front-end User Report for xAPI and SCORM Content. Today, we're super excited to present GrassBlade xAPI Companion v3.1.0.
Now, you can show personalised reports on the front-end with the avatar and name of the learner.
User Report Contains
An overview section on the top with the name and avatar of the user. The overview sections have the following information:
Courses (xAPI and SCORM Contents)
Completed
In Progress
Average Score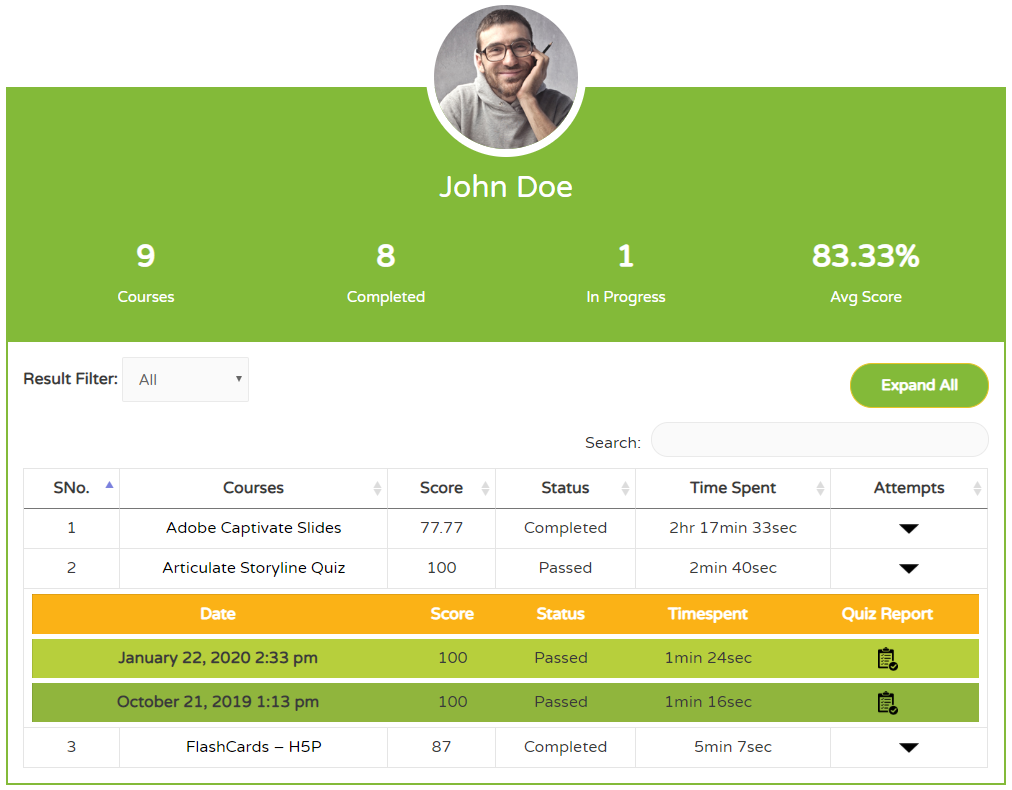 xAPI and SCORM Content including H5P and Videos added as xAPI Content are the total no. of courses.
Under this overview section, users can see all the xAPI and SCORM Contents in a clean table. This table shows:
Course Name
Score
Status
Total Time Spent
Attempts
Attempts column has a dropdown button to show all the attempts of a particular course. In this sub-table, users can see all the attempts with individual reports of the course.
We added the results filter option to filter courses on the basis of user status. To find a specific course, a search box is also there. Users can use normal sorting by just clicking on the table headers.
Rich Quiz Reports
If you enable Rich Quiz Reports for learners in the xAPI or SCORM Content, it will allow users to check their responses to the quiz questions, right inside this report.
How does it work?
You can add this report on any WordPress page or post using the shortcode Please Login or User Report block for Gutenberg editor.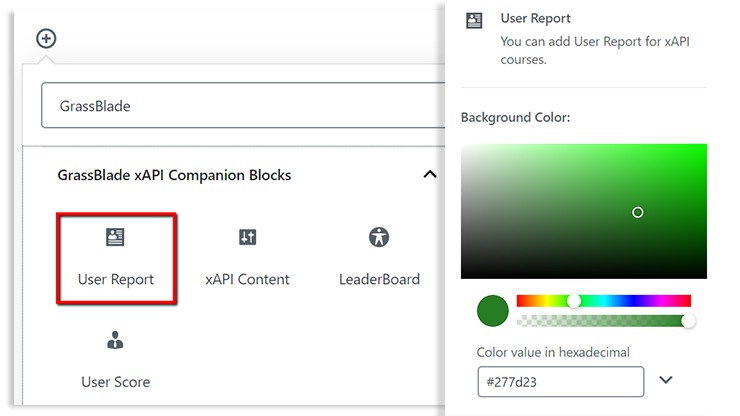 If you're using Gutenberg editor, you can easily customise the background colour to match your theme's looks and feel. It will generate a shortcode with your selected colour you can add this code on any page.
Shortcode also allows you changing the background colour, you just have to add a bg_color attribute with hex colour value in your shortcode. Example: Please Login
Learn More: How to add User Reports on a page?
This is all about this update!
Our next target is to add reports in the WordPress admin dashboard. Currently, it is under planning. If you have any suggestion or features request, please let us know.
For more latest and quick updates please follow us on Facebook, Twitter, YouTube and LinkedIn.