If you're looking for a robust solution to use xAPI or SCORM content on your favourite LifterLMS? We solved your problem by integrating the GrassBlade xAPI Companion plugin with LifterLMS. Download Here
GrassBlade xAPI Companion plugin allows uploading and tracking xAPI, SCORM, and xAPI Video Content on WordPress. You can connect it with GrassBlade LRS for better integration or any other LRS to get reporting data.
Let's check out all the features you're getting with this integration:
Key Features
It inherits all the features of GrassBlade xAPI Companion and a few others to make the most out of your content in LifterLMS.
1. Upload and Manage Content
You can upload xAPI, SCORM, and videos as xAPI Content on your WordPress website. It gives you an easy to use interface and utilities to manage your uploaded content on WordPress.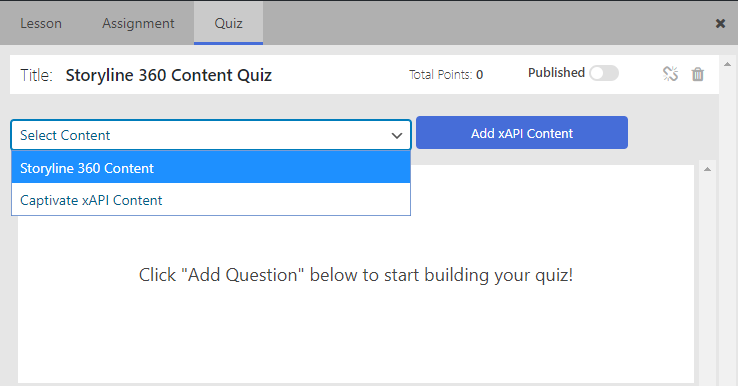 It allows adding uploaded content on LifterLMS lessons and quizzes with easy Gutenberg Blocks and dropdown available on the quiz builder.
For better UI and UX, it supports launching content in three different ways:
In-page
Popup Lightbox
NewTab Window
You can add text or image icon on the launch button for the popup lightbox and NewTab window launch settings.

2. Native Reports
You can add xAPI or SCORM content quizzes on the LifterLMS quiz page and show the obtained score in native user reports of the LifterLMS. This score can be passed into certificates also. [GrassBlade LRS is required]
3. Completion Tracking
GrassBlade xAPI Companion allows tracking of the content completion. If you enable this feature, the user cannot mark the lesson or quiz as complete until reaching the set criterion. [GrassBlade LRS is required]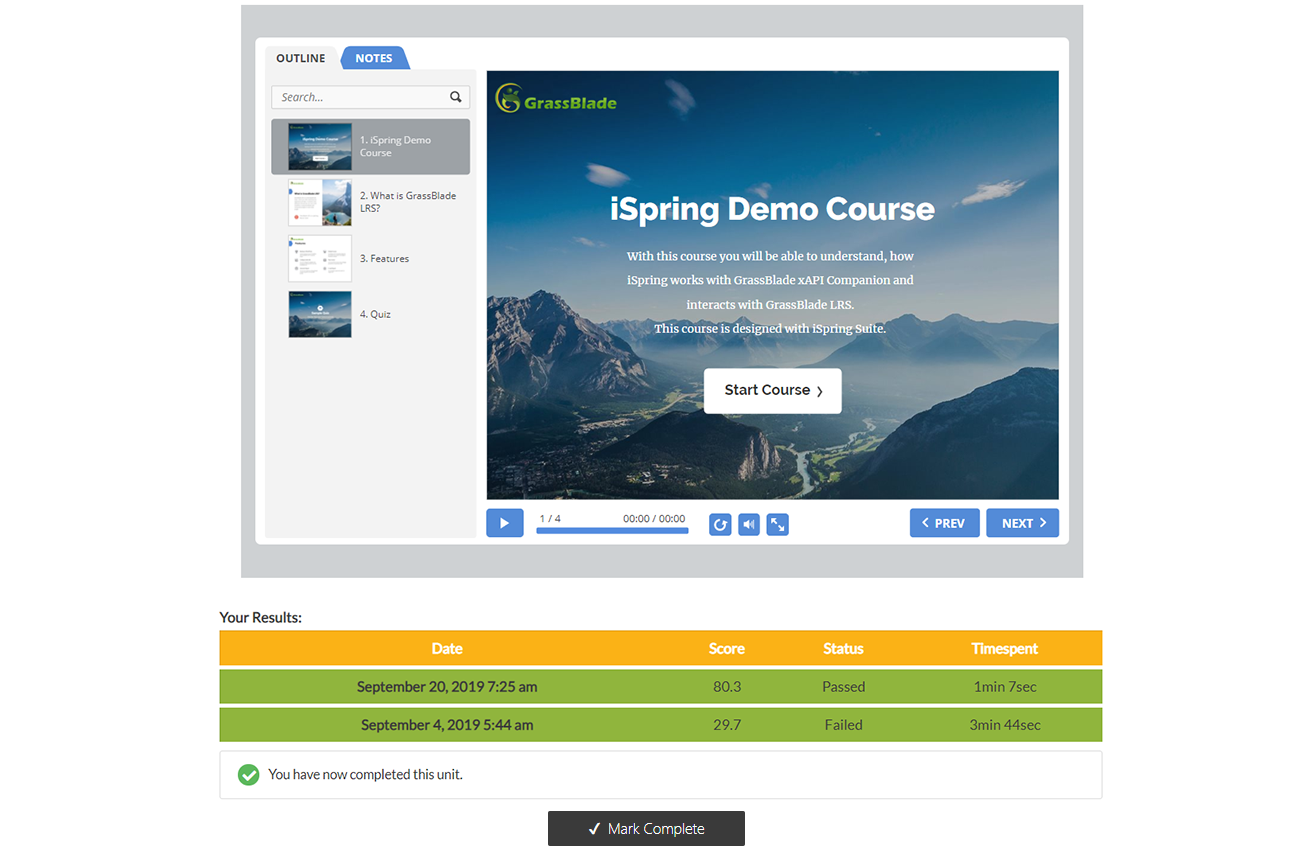 4. Advanced Completion Behaviour
It gives you extra control over the completion behaviour of the lesson. You control the behaviour of the lesson's "Mark Complete" button on the basis of added xAPI Content. [GrassBlade LRS is required]
These are the option available:
Hide button and Mark Complete in the background
Enable Button on Completion [like in above image]
Show Button on Completion
Auto-redirect on Completion
5. Detailed Reporting
Reporting is one of the key xAPI features and here you can get detailed reporting of xAPI and SCORM Content in LRS. You can also track user interaction data on video content as well as your website pages.
All this data goes to your LRS and you can check detailed activity reports of every visitor. You can track activities like login/logout, enrolled/unenrolled and many more interactions going on website and content.
User Report and Rich Quiz Reports for Learners
You can show Rich Quiz Reports to your learners under the xAPI and SCORM Content. Also, you can show User Reports on the frontend using shortcode and Gutenberg block.
Requirements
To use xAPI and SCORM content on LifterLMS at its full potential, we recommend you:
GrassBlade xAPI Companion v3.2 or above
Experience API for LifterLMS (free plugin for integration)
GrassBlade Cloud LRS
It will enable all the features listed above and start advanced reporting on your WordPress powered LMS.
If you're facing any problem while using it, or have any queries feel free to contact us.
For more latest and quick updates follow on Facebook, Twitter, YouTube, and LinkedIn.