We are super excited to introduce the all-new GrassBlade xAPI Companion v5.0 with 8 super useful features. This update consists of tons of new changes and code optimization to bring you the best GrassBlade xAPI Companion ever. In this update, you will get the following features:
1. Reports for All LMS Integrations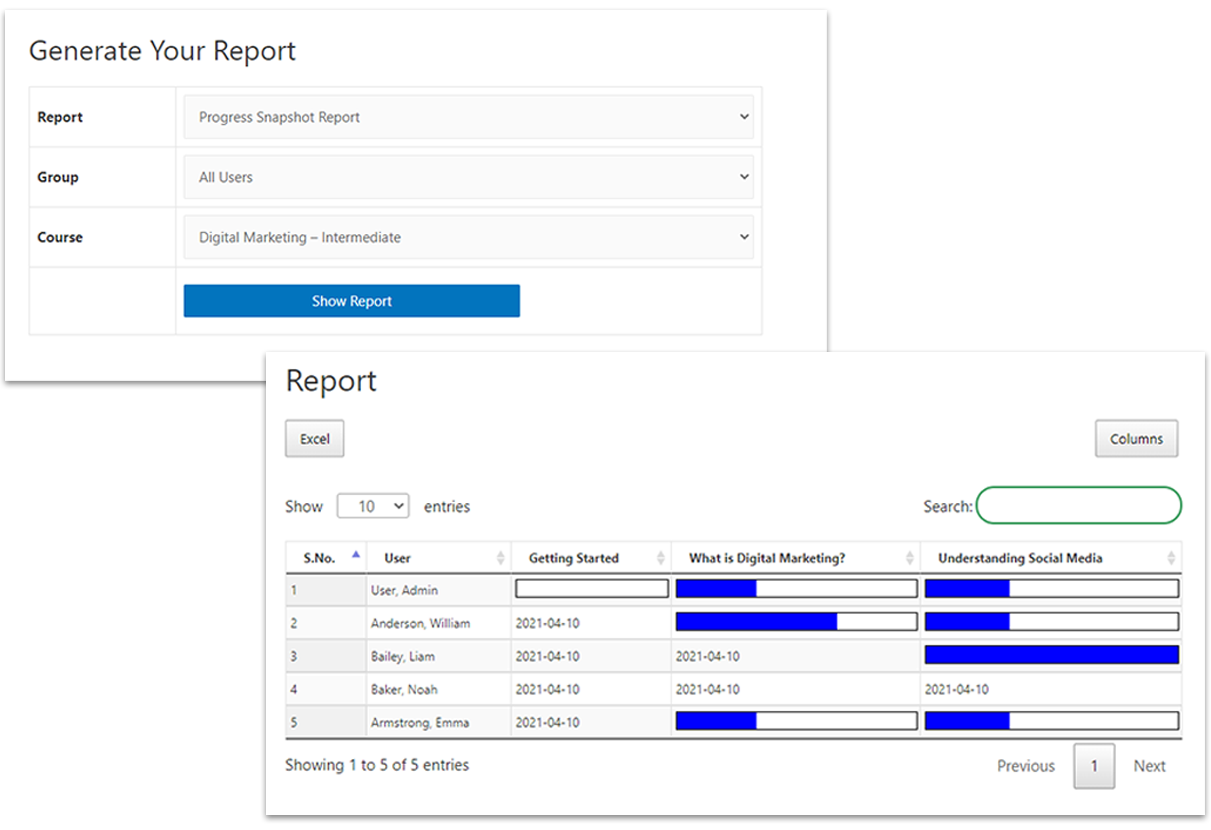 After the release of the Report feature for LearnDash LMS, we got a ton of requests to extend it to all the LMS integrations. We're super excited to announce that we did it. Now the users of the following LMS plugin can use it.
LearnPress LMS, and
Update: Added Support for these LMS integrations as well.
2. Wistia Support
Video tracking and reporting are some of the most essential features that one needs in their LMS plugin. Let's take a moment to celebrate, that thousand of WordPress users are successfully using our plugin to track the user activities on the video content.
This update adds support for the Wistia video content. Now, you can host videos on Wistia and add them to your LMS lessons using the GrassBlade xAPI Companion plugin.
It will track the user activities and send the logs to the connected LRS, If you're using GrassBlade LRS then you will get Advanced Video Reporting as well.
3. Elementor Widget
Page builders are shaping the future of WordPress website design. To provide 100% flexibility, we added the xAPI Content widget for the Elementor users. It is just one for now but will introduce more for other page builders as well.
Completion tracking will also work as it works with the Gutenberg Editor, which means you can easily use it to style your LMS lessons and quiz pages.
4. Visible on Completion
Have you ever thought to reward learners when they complete a video or xAPI Content? or show them a message? Well, now you can hide any Gutenberg block until your selected xAPI Content is completed.
You can hide a coupon code to upsell new courses or provide more learning resources for the topic. If you try to be a little creative, then you can create a sequence of xAPI Content that comes up when the user completes one.
For now, this feature is exclusive to Gutenberg Block editor, we will surely try to extend it to other editor plugins depending upon the request for the feature.
Content Tools
To provide you with better control over the content and simplify some complex issues, we added a toolkit section. For now, we added a few most important features to it. You can find these options in the xAPI Content Details Section.
Copy Protect
Reset Learner Progress
Revisions
5. Copy Protect
Content protection is the most common problem to any course creator and there is no simple solution available. However, to make it hard for someone to copy your content, we added this feature called "Copy Protect". It completely restricts users to perform the following actions on your content:
Text Selection
Copy & Paste
Right Click
Drag & Drop Image/Text
Print Screen
6. Reset Learner Progress
Reset Learner Progress (beta) will reset the progress of all partially completed attempts. Completed attempts will stay completed. You need to do this if your content doesn't launch for some users after updating the content.
7. Revisions
After this update, GrassBlade xAPI Companion will save a settings copy as revisions. You can use these revisions to get back to the previous settings in just one click. It is very much similar to the WordPress post/page revisions, but it only saves settings of xAPI Content. It also allows you to delete the unused/old files and revisions too.
8. Delete Old Packages (beta)
Until this update, GrassBlade xAPI Companion was not deleting any xAPI Content package from your server, whether you upload a new package or delete the xAPI Content. Now, you can delete the old/unused content packages manually.
Find this option here: WordPress Dashboard > xAPI Content > Bulk Settings > Manage uploaded content folders (beta).
We are committed to providing you the industry-standard features in WordPress and this is another small step towards this goal. Our team is working hard to enhance the accessibility and visualization of the reports in WordPress. So stay tuned for more updates.
If you have any suggestions or feature requests? feel free to let me know in the comments. For more latest and quick updates please join our forum and follow us on Facebook, Twitter, LinkedIn and YouTube