Want to track learner activities on Video Content added to your LearnDash LMS lessons or topics? If yes?
Here is how you can deeply track learner's activities and restrict them from completing lessons without watching the whole video content.
We are going to use GrassBlade xAPI Companion and GrassBlade Cloud LRS for advanced video tracking in LearnDash LMS.
With this setup, you will be able to track:
Learner activities on the video content.
Watched percentage of the video.
Most watched parts of the video.
Overall learner activities on the video.
Also, restrict learners from completing the lesson and force them to watch a set percentage of the video without hiding controls.
Step 1:
Read: Add Videos as xAPI Content
Step 2:
Read: Enable Completion Tracking

Step 3:
Make sure you added a passing percentage in the xAPI Content to force learners to watch a minimum percentage of the video.
For Example:
You can configure the lesson to be marked complete when the learner has completed say 95% of the video. The learner has to now watch 95% of the video to mark the lesson as complete.
They can jump around in the video, but it is marked complete only when they have cumulatively watched 95% parts of the video (spending time on already watched parts doesn't count on this).
Step 4:
Read: Add xAPI Content on Lesson or Topic
By following these four steps, you will be able to track activity reports in the Learning Record Store and LearnDash LMS reports.
How Advanced Video Tracking works?
GrassBlade xAPI Companion uses Video Profile of Experience API, an industry-standard protocol approved by ADL (Advanced Distributed Learning). This profile is developed by a community-driven group.
It collects interaction data and relays this information to the Learning Record Store in the form of xAPI statements. There we can transform this data into reports and can perform activities on applications like LearnDash LMS based on data coming into LRS.
How Completion Tracking works?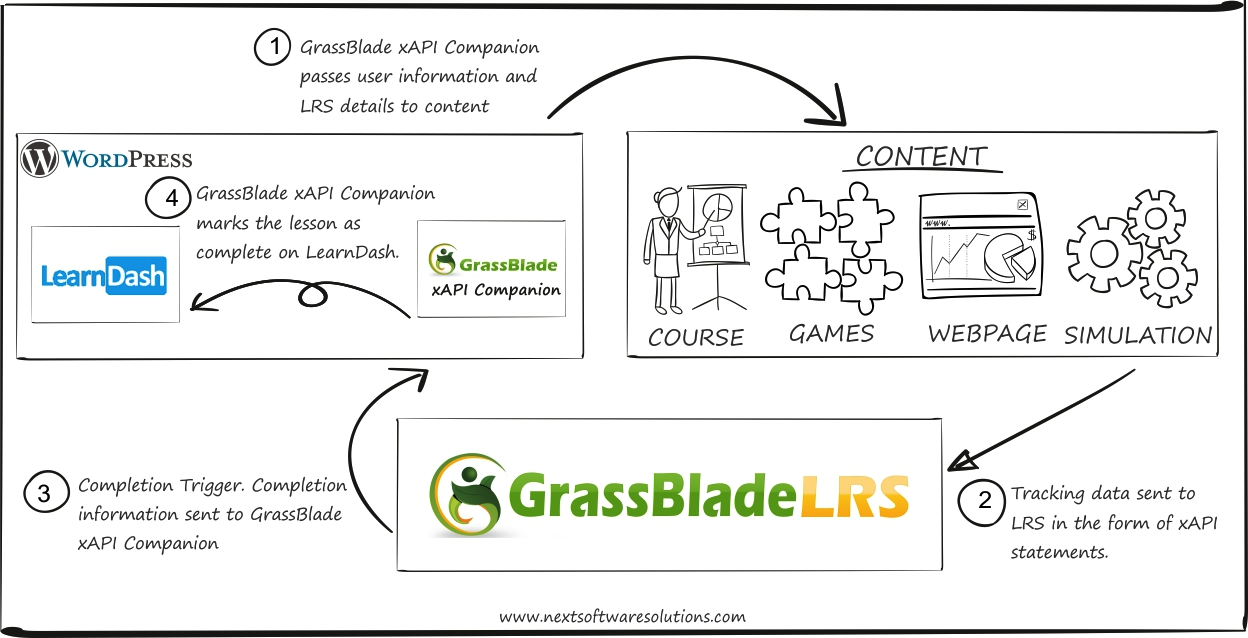 In GrassBlade Cloud LRS, you can see a heat map of the video activities performed by a learner including sequential statements of every activity.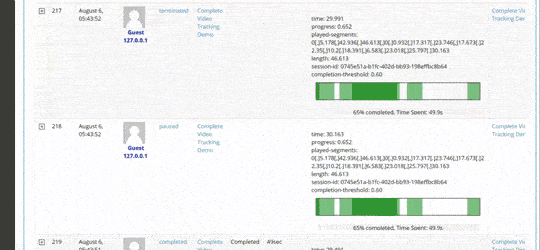 It also includes the following information:
Initialized
Played
Paused
Interacted (volume change, full screen etc.)
Seeked
Completed
Device Information (Phone/Tablet/Computer)
Performance Overview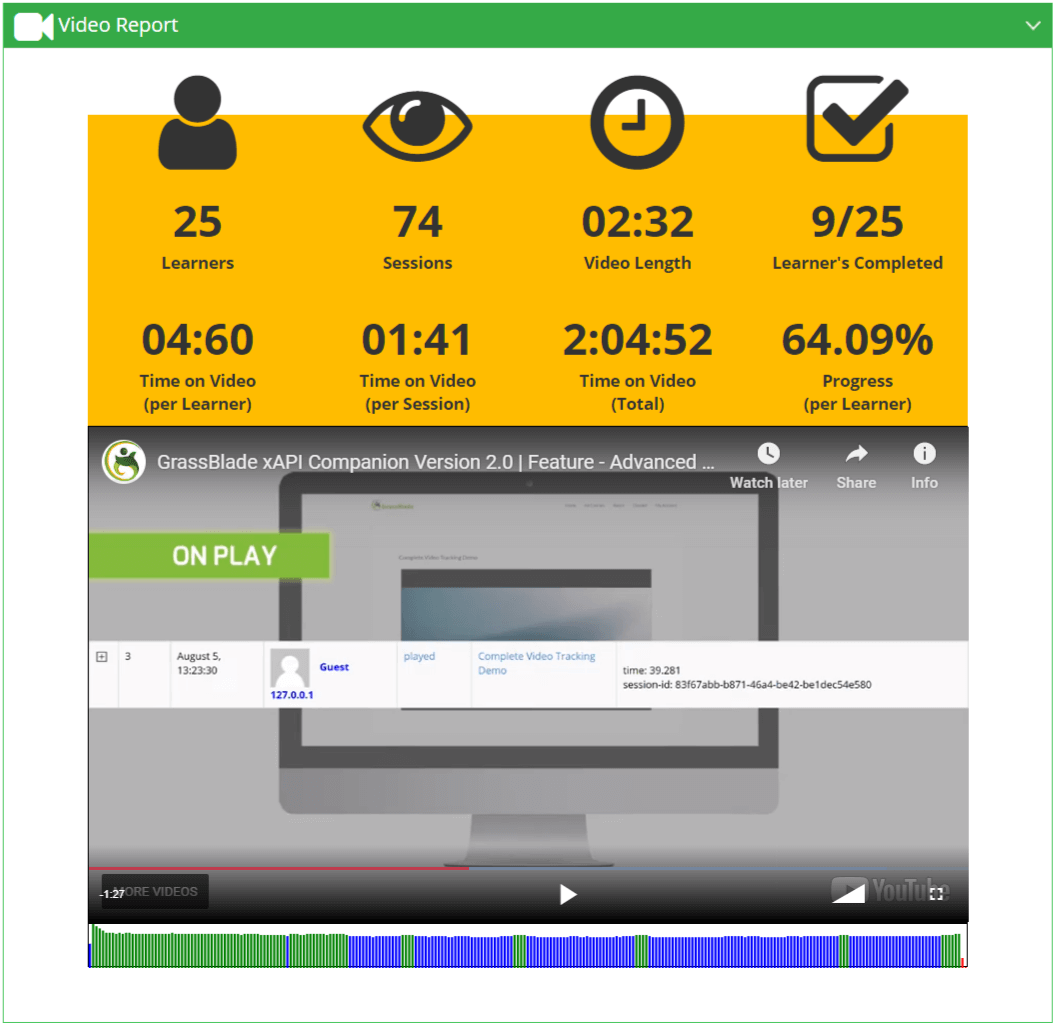 You can also check the overview of the video performance in the GrassBlade Cloud LRS. It will help you in understanding how your video is doing and how all learners interacting with the video content.
Learn More: Video Report in GrassBlade Cloud LRS
Reports Access
All the video activity reports are present in the GrassBlade Cloud LRS and accessible to the admin user. You can also create a new user with different roles having a different set of capabilities.
GrassBlade Cloud LRS Groups feature gives you the ability to group certain users together and assign a Group Leader who can track the progress and performance of any user in their group. It also includes the video activity report and also integrates with LearnDash LMS groups.
With GrassBlade xAPI Companion, you get a few more benefits for LearnDash LMS:
1. xAPI & SCORM Content Support: GrassBlade xAPI Companion also supports HTML5, xAPI and SCORM Content packages. You can easily upload them on WordPress and use it on LearnDash LMS lesson/topic/quiz pages. Learn More

2. Tight Integration: LearnDash LMS has tight integration between GrassBlade LRS and GrassBlade xAPI Companion. Means it record all the activities of learners, such as lesson, topic, quiz, and course completion including answers of the quiz.

3. Events Tracking: It can track native WordPress events as well as LearnDash LMS events and report it to LRS. Example: Login/Logout, Enrollments/Unenrollments, Comments, and PageViews. Learn More

4. Advanced Completion Behaviour: With this feature, you can hide, disable the Mark Completion button it will become active or show up automatically when the user completes the added xAPI Content and works with video content too. Check out the video added below.
LearnDash LMS offers fundamental reporting, but by deploying GrassBlade xAPI Companion and GrassBlade Cloud LRS, you can take it to the next level.
Feel free to contact us or comment below, if you need any help. Follow us on Facebook, Twitter, LinkedIn and YouTube for more latest and quick updates.