With the new Gutenberg editor, creating WordPress content is much easier. The editing interface is responsive and intuitive to add and position text and content elements called Blocks.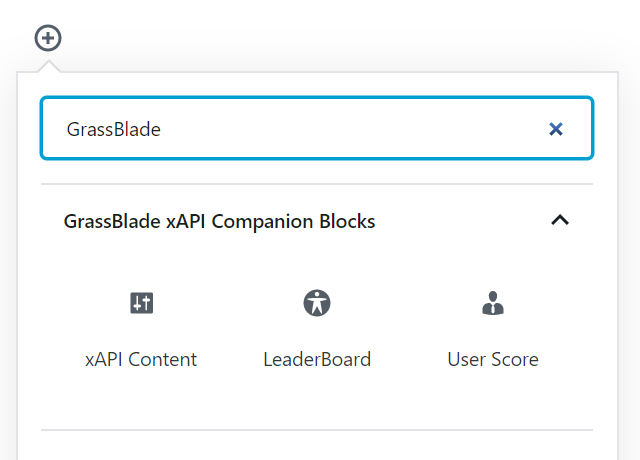 To provide you seamless experience and match the trend, we have also created 3 GrassBlade xAPI Companion Blocks.
xAPI Content Block
Leaderboard Block
User Score Block
These blocks will reduce your hassle of using shortcodes. Let's check out more about each block and understand how to use them?
1. xAPI Content Block
With this block, you can add xAPI Content to any WordPress page or post. Also, to align your content you do not need to use [grassblade] shortcode for positioning. Just insert xAPI Content block on the page, where you want to show the content and select the content.
Now, you can show multiple xAPI contents on a single page, insert as many blocks as you want.
The best thing about this block feature is that you can enable completion tracking on each content and it will mark your LearnDash lesson complete automatically, once a user completes all the xAPI content added on that page.
Steps for adding xAPI Content
Note: Make sure you have uploaded xAPI Content and published it in xAPI Content > Add New page. Read: How to upload xAPI Content?
Step 1: Add xAPI Content block.
Step 2: Select xAPI Content from add to page dropdown.
That's it, your content is ready to go.
---
2. Leaderboard Block
Insert Leaderboard Block on any WordPress page or post to create a leaderboard for your xAPI content. Now, there is no hassle of the shortcode.
Steps for Creating a Leaderboard:
Step 1: Add Leaderboard block
Step 2: Select xAPI Content for which you want to show a leaderboard.
Step 3: Select User Roles, who can see it?
Step 4: Now, select Score Type.
Step 5: Enter the size of Leaderboard.
Voila… your leaderboard is ready.

---
3. User Score
Using this block, you can show user score for particular content or total score in all the contents.
Steps to show user score in the front end:
Step 1: Add User Score block.
Step 2: Use the default label "User Score" or change it as per your need.
Step 3: Select a specific xAPI Content or All Content.
Step 4: Select Score Type.
Step 5: Add BadgeOS point if you want, it is optional.
Your user score is ready. If you're facing some problem in terms of design you can use the shortcode given below the settings.
---
These features are part of our renewed efforts to make your life simple. We will keep doing such things to provide more value and seamless UI.
Hope you find these features useful. If you have any comments, suggestions, or feature requests feel free to drop a message in the comment section below or contact us.
Follow us on Facebook, Twitter, and LinkedIn for more latest and quick updates.